 LICENSING EXPO VIRTUAL REVEALS COMPREHENSIVE 2021 AGENDA NEW AND RETURNING OFFERINGS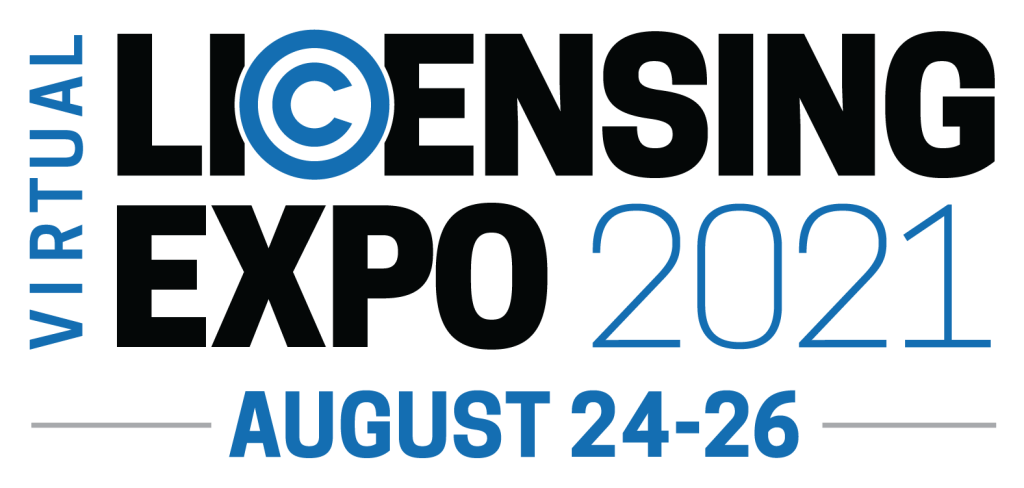 The agenda for the 2021 digital event is designed to be a one-stop-shop meeting place for the global licensing industry to learn from peers, discover new IP, and ink deals.
Santa Monica, Calif. (July 8, 2021) – Licensing Expo Virtual, in partnership with industry trade association Licensing International, today announced the agenda for the event's 2021 edition taking place August 24-26 in a virtual format. Celebrating 40 years of connecting IP owners with retailers, manufacturers, and licensees, Licensing Expo Virtual will feature the most robust educational agenda to date strategically designed to fuel the $292.8 billion global licensing industry. Visitor registration is open and free of charge.
This year's event features the return of Licensing U, produced by Licensing International, the US market debut of License This!, and an opening keynote address from senior executives at Warner Bros. Consumer Products, plus the launch of Digital Brand Roadshows, Retail Clinics, Sustainability Clinics produced in partnership with Products of Change, along with GLG educational content. "We are so excited to reveal this year's agenda as we tailor-made each offering to mirror the industry's most pressing and ever-changing needs," said Anna Knight, vice president of Licensing, Informa Markets. "As a result of extensive conversations with our exhibitor and attendee community, we have devised the strongest agenda to date that is geared toward inciting collaboration, drawing hundreds of IP to the forefront, and addressing the challenges our attendee-base faces daily."
The agenda will split into live and on-demand content and include: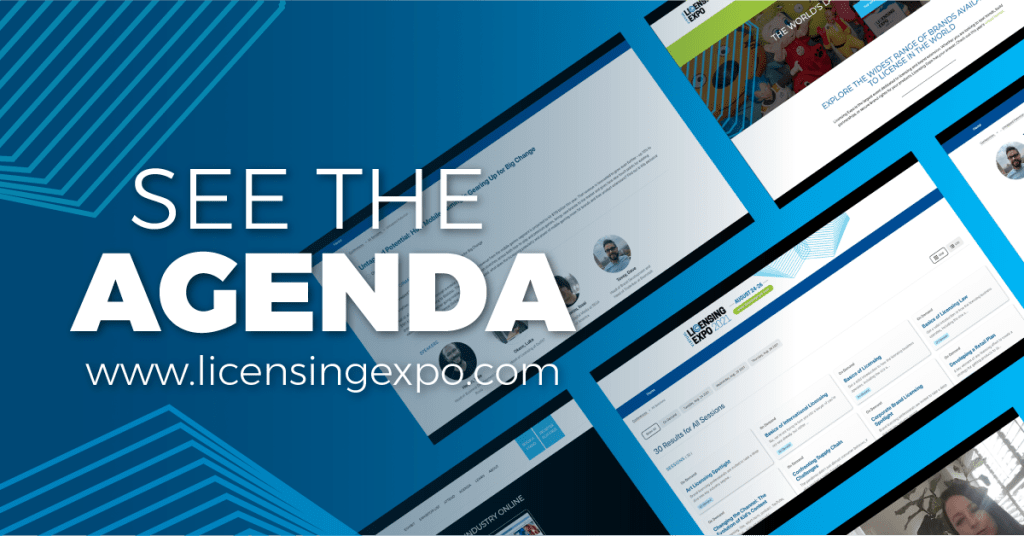 LIVE SESSIONS
Digital Brand Roadshows: New to Licensing Expo, the Digital Brand Roadshows aim to highlight compelling brands and IP through an exciting collection of exhibitor case studies linked via a common theme, spotlighted in panel conversations broadcast live at the event. Categories for the 2021 event include:
Collaborations and Partnerships
New Exhibitors to the Event
Heritage and Nostalgia
The Live Experience
Animation and Anime
Licensing Around the World
Sustainability Clinics: Also new to the 2021 agenda are the Sustainability Clinics made possible by partner Products of Change, a global educational hub to drive sustainable change across consumer product markets and beyond. Attendees have the opportunity to participate in 30-minute clinics with experts from Products of Change to garner personalized advice on how to improve their current approach and gain a deeper understanding of what other players are doing in the licensing industry.
Retail Education & Ask Me Anything Sessions: Licensing Expo Virtual will offer Retail Clinics comprised of tailored educational sessions provided free of charge for all retailers. "Our intention with Retail Clinics is to ease the challenge of keeping up with and understanding key trends, helping retailers meet a range of licensing experts and gain the inspiration required to introduce licensing into retailer's strategy," commented Knight. Education sessions will include:
On-demand: Sessions on future trends, category-specific brand licensing case studies, and licensing 101 for retailers.
Live Broadcast: Ask Me Anything sessions where a panel of brand licensing experts will be on hand to answer any questions you have about brand licensing and retail. Questions can be submitted live or in advance and can remain anonymous.
Keynote Address: Senior executives from Warner Bros. Consumer Products will deliver the opening keynote address entitled "Unlocking the Fan Power of Global Franchises," moderated by License Global magazine's content director Amanda Cioletti. To tune into the address on August 24 at 11:00 a.m. EDT/8:00 a.m. PDT presented by Pam Lifford, president, global brands and experiences, WarnerMedia, and Robert Oberschelp, senior vice president, global franchise management and brand product, Warner Bros. Consumer Products.
License This! Finale: On Day 2 of the event, attendees can be a part of the License This! competition finale, a global initiative produced in partnership with Licensing International and InventHelp that provides select illustrators, designers, animators, and product inventors, the exciting opportunity to pitch their concepts online in front of a panel of expert judges.
ON-DEMAND SESSIONS
GLG Educational Content: Attendees can enjoy on-demand content produced by License Global, which will go live two weeks before the event and spotlight various industry categories, including:
Changing the Channel: The Evolution of Kids' Content
Ordering Up: How F&B is Feeding Limited Edition Drops
Untapped Potential: How Mobile Gaming is Gearing Up for Big Change
Collectibles – Who's Collecting What Now?
WTF is an NFT???!!
Licensing U: A Licensing Expo staple produced by Licensing International, Licensing U supports brand licensing newcomers and those interested in honing their expertise. This year's educational offering will span three tracks:
Basics, offering an essential introduction to how the licensing industry works
Spotlights, providing insight into the latest topics and trends in key segments
Tactics and Strategies, offering insight into the topics and trends impacting the brand licensing industry
A selection of Basics sessions includes:
Basics of International Licensing: A licensing program that operates in more than one country requires a specific set of considerations that can involve such aspects as financial, regulatory, and legal systems, cultural considerations, retail structures, and many others.
What You Need to Know About Royalty Rates: Find out how royalty rates are determined, what brand owners and licensees need to be thinking about when they're being discussed, as well as the implications of the array of structures under which they're calculated.
Developing a Retail Plan: A key element of any licensing effort to create a strategy for getting products to (and through) retail. Attendees will gain perspectives on how to understand the differences among various kinds of retailers, figure out their hot buttons, and match property or product lines to the appropriate targets.
A selection of Tactics and Strategies sessions includes:
The Future of NFTs: It might be the hottest topic in the business, with implications for corporate brands, sports, entertainment, celebrities, art – literally every category in licensing. What's the state of the business, and where is it all headed? Experts will provide perspective.
Sustainability Strategies: Environmental responsibility is on the minds of an ever-growing number of consumers. Manufacturers and brand owners in all product categories need to address those concerns—a look at the latest thinking on sustainable sourcing and other topics.
Confronting Supply Chain Challenges: The pandemic didn't just disrupt consumer behavior; it also sparked a significant disruption in manufacturing, shipping, and all aspects of getting new products to market in a cost-effective and timely way. How have things changed, and what's the outlook for the future?
Attendees can secure their Licensing U Pass from just $88 for one track or $156 for the All-Access Pass by booking before July 23 to take advantage of the 20% Early Bird discount. Licensing International members benefit from an additional 10% discount.
For a full download of the 2021 Licensing Expo Virtual agenda, visit here. All sessions will remain available on-demand for three months after the live event ends.
Follow Licensing Expo Virtual on social: #LicensingExpo
About Licensing Expo
Launched in 1980, Licensing Expo is the world's largest and most influential annual tradeshow dedicated to licensing and brand extension. Every year, more than 5,000 brands and 16,000 retailers, licensees, manufacturers, distributors, and licensing agents attend Licensing Expo from more than 70 countries. Licensing Expo is a part of the Global Licensing Group at Informa Markets, the licensing industry's leading tradeshow organizer and media partner. Its mission is to provide licensing opportunities around the world by bringing brands and products together.
About Global Licensing Group
The Global Licensing Group at Informa Markets is the licensing industry's leading tradeshow organizer and media partner. Its mission is to provide licensing opportunities around the world by bringing brands and products together. The following events and information products are produced for the licensing industry by the Global Licensing Group at Informa Markets: Licensing Expo, Brand & Licensing Innovation Summits, Brand Licensing Europe, Licensing Expo Japan, Licensing Expo Shanghai, License Global magazine, License Global Daily E-News, and The Licensing Mixtape podcast. Global Licensing Group events are sponsored by Licensing International.
About Licensing International
Licensing International is the leading trade organization for the global licensing industry. Licensing International's mission is to foster the growth and expansion of licensing around the world, raise the level of professionalism for licensing practitioners, and create greater awareness of the benefits of licensing to the business community at large. Founded in 1985, Licensing International members in over 40 countries enjoy access to an array of benefits, including extensive educational programming and worldwide networking events. Visit LicensingInternational.org for more information and to utilize licensing's definitive online resource.
Media Inquiries
Lauren Lloyd, PR Director
310-266-4792
LicensingPR@informa.com