 NEW MANCHESTER STATIONERY SHOW NEXT WEEK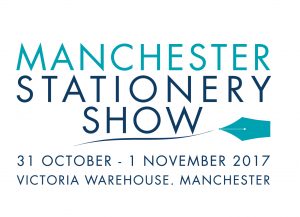 The countdown has begun to the debut of the Manchester Stationery Show next week, this is a quick round up of what visitors can expect to see, hear and get involved in!
 Plenty to see
 New Product Showcase
The New Product Showcase is always one of the most popular stopping off points for visitors and the Manchester one will be no exception.  Featuring exhibitor products launched since 1 January 2017 it is an easy visual way to spot trends and track down new brands and suppliers, as all the products are clearly labelled with their supplier and stand number.
Every exhibitor has confirmed they will be showcasing new products for 2018 at Manchester, with edding, Silk Hat Greetings and Peace & Blessings offering show order deals on 2018 products.
In addition, many exhibitors, including Toscana Carte, Pomegranate Europe, Polaroid3D, Lime Stationery & Art, Newell, Portico, Glue Dots, Manuscript and Ryyan International will also be offering some fabulous final Christmas deals for retailers with a spot to fill!
The first Manchester Stationery Show plays host to 40 exhibitors representing some 70 leading stationery brands.  The debut show has already attracted nearly 1000 specialist stationery buyers to pre-register from across the UK, including independent gift, lifestyle and stationery stores from across the West Midlands and the North.
The show is looking forward to welcoming buyers and owners from stores such as The Clever Badger, Write Here, Paper Things, Chesters by the River, Thomas Stoner, Delta Pi, Pencil Me In, B&M Retail, Touch of Elegance, Card Party Store, The Gift Box Chester, kikki-K, Jottershop, Snow in Summer, Coventry University, Golden Hare Books, Paper Tiger, Penny Black Glasgow, Dunelm, Utility Retail, notonthehighstreet, The Little Stationery Shop, The Co-Operative Group, Open Office Solutions and Goulds to name a few.
LaunchPad Newbies
Say hello to six new stationery suppliers in our LaunchPad area – Emma Lawrence Designs, Green Pebble, Paper Mirchi, Stationery Geek, Mayblossoming and Peace & Blessings.  They'll be waiting in trepidation for feedback, visitor will be encouraged to take a look at the line-up which includes some magnificent gift wrap, a fun children's range, adaptable, pro-use journals, beautifully illustrated cards and badges, a great range of non-mainstream cards and notebooks and fantastic family planners, spelling cards and personalized writing paper for kids!
 Listen and learn
The Manchester Stationery Show is offering a full line up of expert speakers on both days:
Henri Davis, chair of The Giftware Association and independent retail advisor, will be looking at how independent retailers can turn their size and individuality to their advantage
Michael Weedon, high street and retail commentator, shares data that reveals what is happening to retail on Britain's high streets and shopping centres
Tracey Bearton, editor of leading trade title Greetings Today, explains how to best present the news about your company in the media
Phil Pond, trend translator of trend forecasters Scarlet Opus, will identify how the changing attitudes of buyers and global consumer and design trends should be affecting buyers' choices and how products are presented
Faika Khurram, retail analyst at the Bright Consultancy, will be commenting on the consultancy's recent 'Back to School' review and offering a view of the key things for retailers and suppliers to capture for a successful Back to School 2018.
And finally, well-known graphologist Christina Strang, is not only sharing insights about the written word and what it says about us, but will also be offering interested individuals the opportunity to have their handwriting analysed free of charge.
Anyone interested in booking a session with Christina at the show should contact Vanessa Fortnam in the first instance on 01666 824624 or via vanessafortnam@thepressofficeltd.com.
Full details of the seminar programme are on the show website – click here.
Get busy making at the Craft Focus Creative Stationery Workshops!
Sponsored by trade magazine Craft Focus, and led by editor Julie Bonnar, exhibitors Manuscript, Eddings, Glue Dots and Paper Mirchi have put together some simple, but effective ideas for workshops that retailers could run themselves, or with some supplier help.
The first 25 visitors to pre-book a workshop place on each day will receive a stationery goodie bag to take away.  The timetable can be found on the show website – click here.
Thirty Under 30 Awards
This initiative by trade magazine Stationery Matters to find thirty people under 30 years of age each contributing to the success and future of the stationery industry is a first.
Each of the thirty nominees, the reasons why they were nominated and the judges' comments about their entries are all part of the display at the show.
The nominees have been invited to attend the After-Show drinks party which takes place on the first evening of the show, where the judges' star choices will be revealed.
The full list of nominees can be found in the Autumn/Winter issue of by Stationery Matters.
Click here to read the online issue.
The new Manchester Stationery Show runs on Tuesday and Wednesday, 31 October & 1 November, at the Victoria Warehouse in the Old Trafford area of Manchester.  Visitors can register via the Manchester show website: www.stationeryshow.co.uk
Show open times are: 9.30am to 5pm on both days.