 NEW MEMBER - NORFOLK INDUSTRIES

The GA spoke to Norfolk Industries to find out more about what they do within out industry.
Name: Sharon Tooke
Title: General Manager
Name of company: Norfolk Industries for Disabled People
Can you tell us a bit more about your company?  
Norfolk Industries is a business whichhas grown from a Sheltered Workshop format into a fully-fledged commercialenterprise. We have been working hard totake the business into generating a surplus above running costs and we are verynearly there! We manufacture smallanimal bedding products and gifts from recycled materials whilst also employingpeople with disabilities and providing work placements to others who havevarious barriers to work.
We currently manufacture about 1.4million bags of product per year and supply large and small business in the UK aswell as exporting to Spain.
Who is your audience?  
We have two audience sectors – commercial customers from pet sector, garden centre sector, supermarkets and for our service delivery to people in the community – local disabled groups, schools and colleges, JobCentre Plus, Norfolk County Council, employment advisors, etc.
How long have you been trading and what is the history of the company?  
We can trace our history back over 100 years!  We originally came from the Norfolk and Norwich Association for the Blind and have continued our commercial work through departments such as general trades, coir matting, toiletries, basket weaving, wire work and now pet bedding!  In the late 1970's we were taken over by the Council and became part of Prevention Services.  Now externalised from the Council and operating as a Community Interest Company.
What three words best describe your business and its products?
Ethical, Quality and Community.
Where do you find your inspiration?
Working to provide employment and opportunities for people with disabilities to work is a really important element of the business but doing that in an ethical way and providing great quality products for small pets in the UK and abroad is also exciting!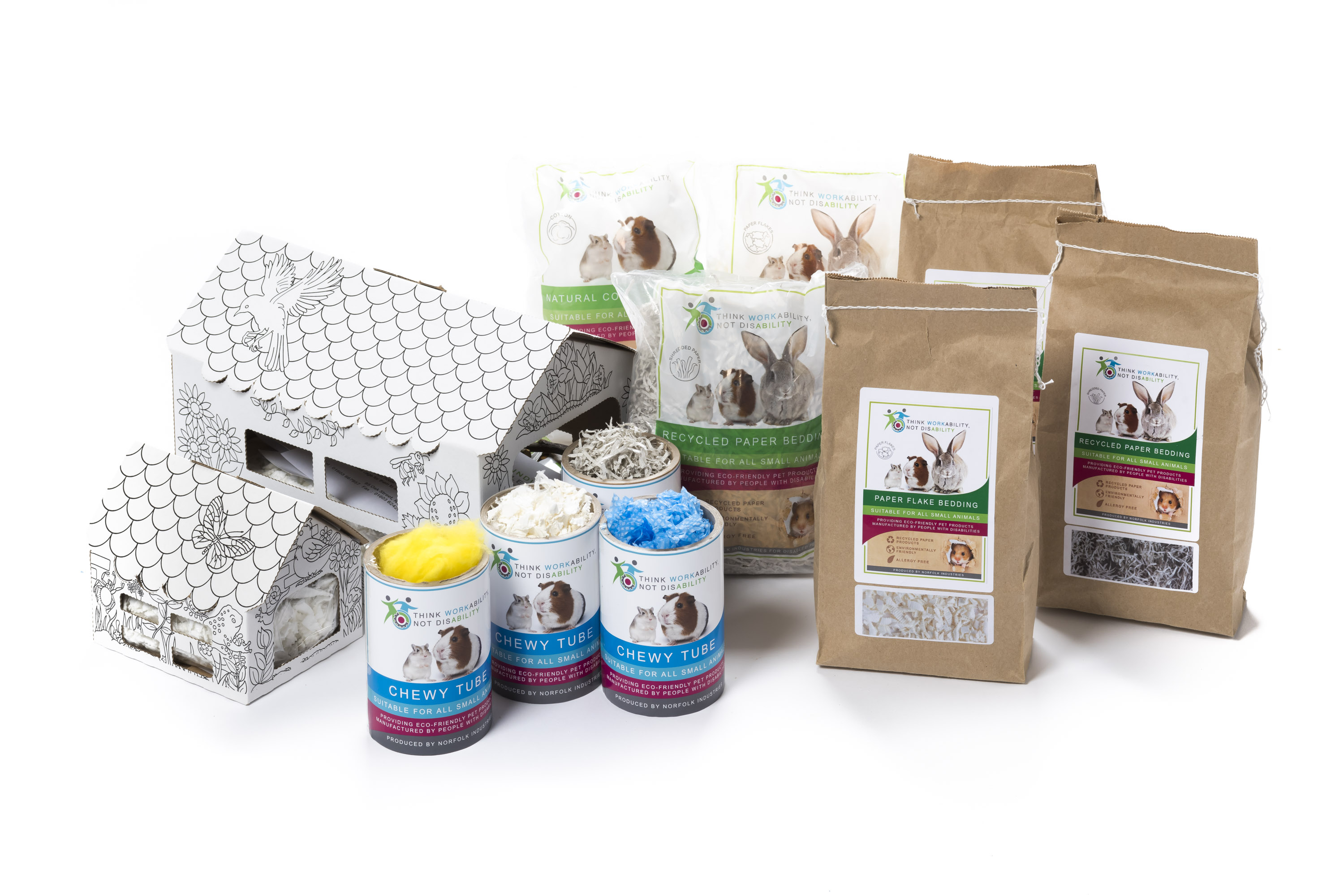 Do you use social media to promote your business? How has this landscape changed over the years within the home and gift industry?
We are on Facebook, Twitter, Linked Inand Instagram.
Do you do any advertising/PR?
Yes, as and when we can affordit. We tend to go to PATS Telford tradeshow as this has been the most productive for us in the past. We gain editorials where we can and haverecently committed to advertising in our local football club match dayprogrammes for 5 months in order to raise awareness of the business locally. We have also made an effort to promoteourselves within the Garden Centre sector as this is another area we areworking to supply product to.
What do you wish you'd known at the very beginning of starting your business that you know now?
That it would become all consuming!
Do you feel the economic climate is improving or is it getting tougher to trade?
6 months ago I would have said tougheryes, but since attending a Trade Show in September this year we have suddenlyrealised that people are making purchasing decisions around ethical trading,recycled products, biodegradable products etc, and this is all NorfolkIndustries! The future looks promisingfor us if buyers are going to take this into consideration.
What do you see as being the biggest problem for giftware suppliers in the gift industry?
New product development. It'sexpensive, time consuming and often doesn't work! As well as the continued uncertainty ofBREXIT.
If we could help you with one aspect of your business, what would that be?
Raising awareness of our ethical trading and products within appropriate sectors, we need more sales in order to generate more employment opportunities for people with disabilities!  We also need a pallet wrapper but can't afford to buy one!!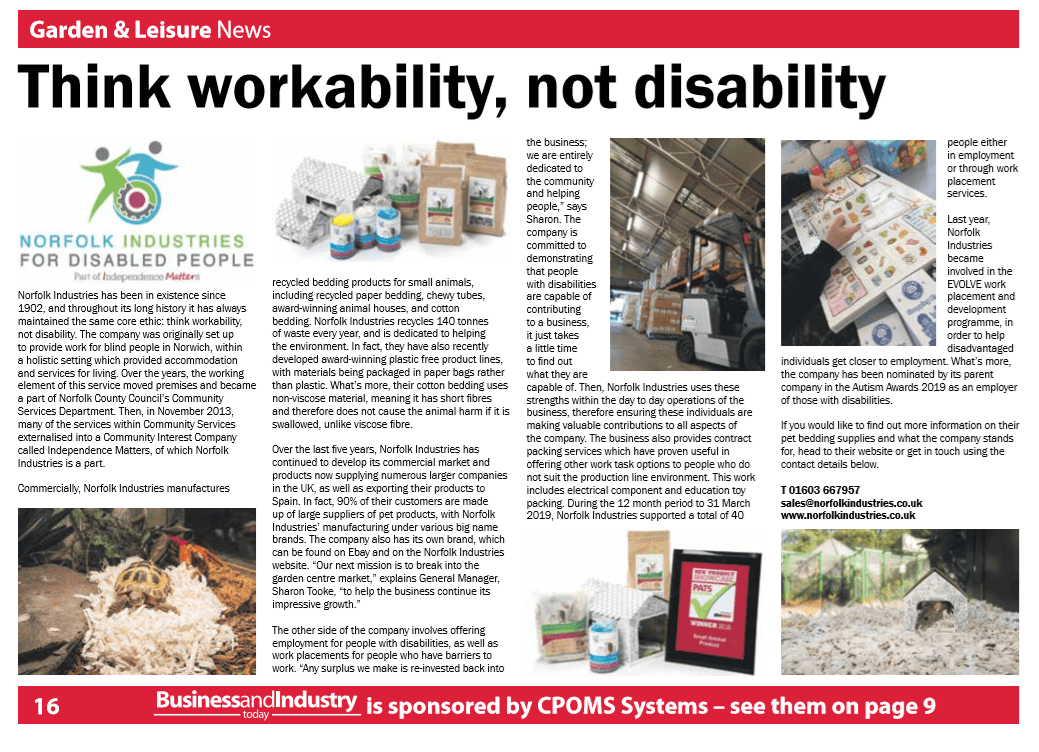 What news do you have to share with us so we can celebrate your achievements in 2019?
We have recently developed a postal carton system in order to get smallerquantities of our products direct to smaller retailers and corner shops acrossthe UK.
We have also developed a Bank Worker system which enables people who havebeen on our work programmes to further progress into paid employment on aflexible basis to cover business labour needs.
We developed Gateway Assured Accredited Learning modules to reflect ourwork tasks which assist individuals with their learning but are belowqualification level which most of our service delivery candidates would not beable to reach.
What are you looking to achieve in 2020?
Nowdeveloping new products, we hope to officially launch these at PATS Sandown in2020.
Wealso hope to have our service delivery commissioned in order to continuegenerating wonderful outcomes for local people and generate a secondary incomefor the business.
We hope to expand our contract packing area in order to accommodate more work as this type of work really suits our service delivery client group.
You can find more about Norfolk Industries here