 RISING RETAIL EVENT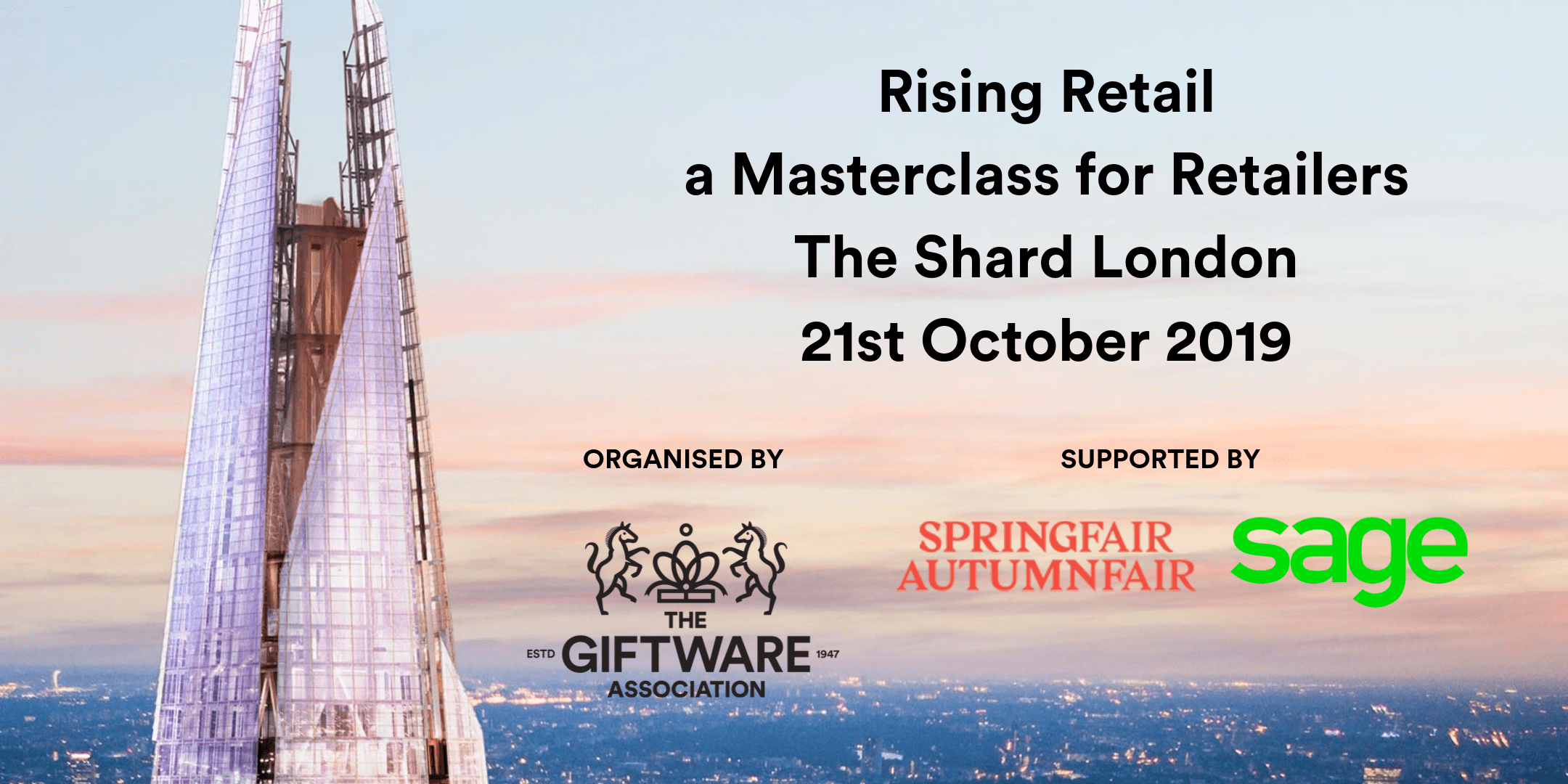 A fantastic line-up of speakers and topics have been announced for the Rising Retail event this month.
Rising Retail is an exciting Masterclass for independent gift shop retailers and leading experts to come together to share best practices that they can then take home to improve their businesses and enhance their high streets.
The event is being held at the Shard at London Bridge on Monday 21st October from 09:30 - 16:30. Places are limited to just 35 lucky retailers and are only available to those who pre-book. To secure your place before it sells out click here.
All of the speakers and topics have been carefully selected and curated to help retailers discover golden nuggets that they can implement in their businesses and communities to help them thrive. It's an opportunity to make a difference in your life and for those around you.

Rising Retail Speakers - Marianne Shillingford, Kat Maclennan, Nicole Davidson, Kate Cowie and Karen Kirby.
Trends - What's coming and how to take advantage
Marianne Shillingford, Creative Director of Dulux in the UK and Ireland, discusses 2020 global colour and design trends and how retailers can apply them to keep their customer experience fresh and on trend.
Visual merchandising - How to create exciting shopping experiences
Visual merchandising expert, Kat Maclennan, from Dot To Dot shares actionable tips that independents can use to drive footfall and increase sales by creating exciting shopping experiences for their customers. With over 20 years experience with leading brands including adidas, Reebok and Radley London, Kat will help you connect the dots.
Lessons from the top - Tips from majors that indies can benefit from
Freelance fashion buying consultant, Nicole Davidson, shares tips and tricks independents can learn from major retailers. For over 15 years Nicole has worked with a range of retail brands including Topshop, Next and New Look.
Staff - Recruiting, motivating, and retaining great retail teams
Kate Cowie Co-Director of Utility, a group of independent gift stores in the North West, and HR Expert, Karen Kirby, discuss how to create winning teams within retail. Karen from Greenshoot HR has over thirty years of experience in Human Resources.

Rising Retail Speakers: David Robertson, Livvy Drake, Frances Jardine, Louise Welsby and Tim Hughes
Making Mistakes - Classic mistakes Indie Retailers can learn from
Independent retailer David Robertson from JP Pozzi shares mistakes he's learned from over 30 years of working in retail. An inspiring speaker, columnist and retail consultant, David's sharing will help you to avoid classic mistakes yourself.
Going Green - How retailers can reduce their environmental impact
Livvy Drake, from Sustainable Sidekicks, is a sustainability and behaviour change consultant and co-presenter on the podcast: Woke and Confused. Learn how you can reduce single-use waste in store and through your supply chain to help your business benefit from the consumer drive towards environmental change.
Instagram - Retailer tips for growing sales through social media
Frances Doran, Co-owner The Bottom Drawer Portadown, and social media expert, Louise Welsby from Buy From, discuss how Frances uses her Instagram account to grow sales and drive footfall to her store.
Social Selling - How using online groups can boost sales
CEO of Digital Leadership Associates, @Tim_Hughes1 literally wrote the book on Social Selling and is ranked Number 1 by Onalytica as the most influential social selling person in the world. Learn how to boost your retail sales and footfall using groups on social media and simple social selling techniques.

Rising Retail Speakers: Ed Goodman, Marriott Lusengo, Frances Andy Adamson and Jenny Spivey.
Google My Business - How to boost footfall to your store
Marriott Lusengo, CEO of the London School of Digital Marketing, shares the benefits of using Google My Business to create and manage online listings that boost footfall and sales for your retail business.
How to build an engaged community for £50
Digital Marketing expert, Ed Goodman from Social B, explores how to build an eco system of people and businesses online (and on a budget) that can impact engagement within your local community and encourage your high street to thrive.
Negotiating - how to cut costs and save money as an independent
Independent retailer and co-owner of Calliope Gifts, Andy Adamson, who used to be the head of supply chain at Borders will be discussing negotiating with retail expert, Jenny Spivey, ex-buyer of John Lewis. Learn how to save money with your landlord and suppliers.