 SCOOP x PURE LAUNCHES A/W 2022 CAMPAIGN AT THE OLD TRUMAN BREWERY - 8TH-10TH FEB 2022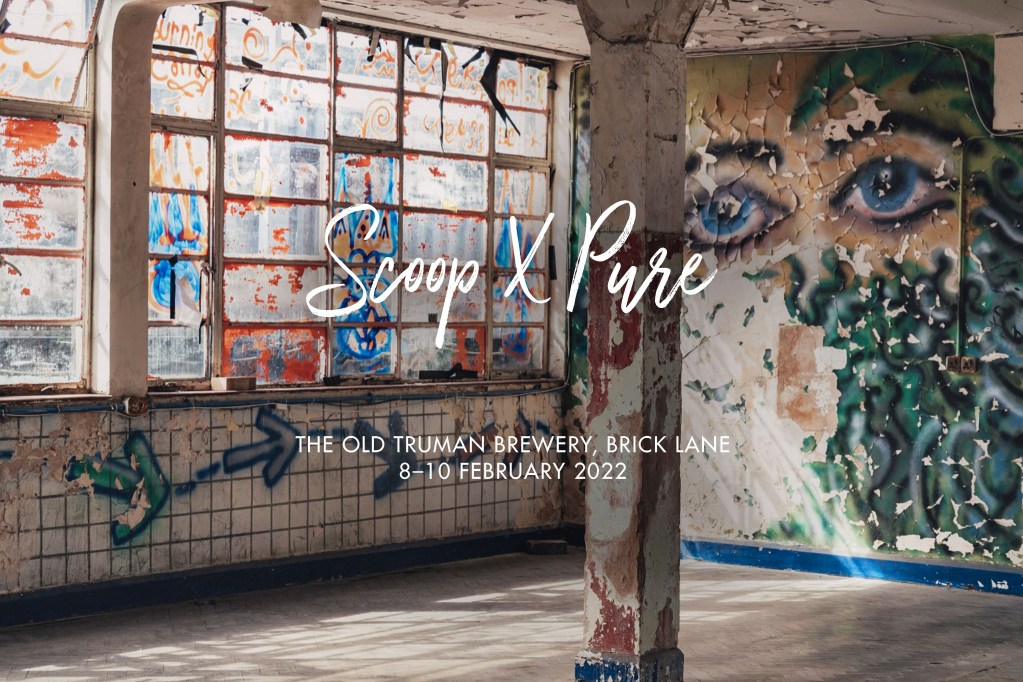 Following the success of the last show, Scoop and Pure London will once again collaborate and unite to showcase the most exciting Autumn/Winter 2022 collections from the best in show designers and labels across the Scoop and Pure London rosters. Under the creative direction of Scoop founder and MD, Karen Radley, Scoop X Pure will co-locate at The Old Truman Brewery on Tuesday 8th – Thursday 10th February 2022 bringing together the very best premium and ready-to-wear collections.
Karen Radley, Founder and Managing Director of the UK's leading premium contemporary womenswear show Scoop and creative Director of Scoop x Pure commented on the forthcoming show: "We were really delighted and overwhelmed with the response to last season's residence at the Old Truman Brewery, so much so that we'll be returning there for the Autumn/Winter 22 collection launches. Following the success of the midweek show, mindful of health and safety regulations and the well-being of our visitors and exhibitors, we have announced new dates from Tuesday 8th – Thursday 10th February 2022. My focus this season will be introducing fresh talent and new designer collections with a strong focus on sustainability."
Renate Beaumont, owner of Vanilla, Oxford commented on last season's show; "It was so lovely to go to a trade show again in September and Scoop x Pure was a real treat! We found lots of new designers and looking forward to February for the next show."
Also sharing her excitement at last season's show, Lucy Walsh, Founder of The Brand Ambassador Agency said; "I can't remember a show with such a buzz. Buyers were excited to be back out, the brands looked bright and thrilling and the atmosphere was electric. We had such a wonderful three days I feel slightly overwhelmed and a bit emotional."
Karen Mabon concurred saying; "It's been an amazing show for us. Since we've been here, it's been absolutely amazing. We've met existing buyers, we've met new buyers, department stores, independent boutiques. So it's exceeded our expectations. Absolutely brilliant."
Leah Bernal from Leah Bernal Agency added; "All the right UK and Irish buyers come to Scoop. I have been showing my collections at Scoop since 2012 and would not show anywhere else!"
Vanessa Green of Middleton Green Agency also had a positive show; "Scoop could not have been better. Wonderful show and we saw all our buyers. Cannot wait for February!"
Gerard Levy from GIL Agency said; "I am a great fan of Scoop – it is in my showing diary every season".
Pure London will return to London Olympia on the 17- 19th July 2022 and Scoop will also take place in July.
Gloria Sandrucci, Event Director of Pure London adds: "While we continue to miss our Olympia home and are gearing up for our return there in July, our co-location with Scoop at the Old Truman Brewery has been an incredible collaboration and we are very excited to welcome our labels and buyers back for February. It is such a dynamic and creative environment and will offer the perfect platform for showcasing new collections."
Visit www.scoop-international.com and www.purelondon.com for more information.
About Scoop:
Scoop is renowned internationally for its exclusive presentation and expertly curated edit of fashion designers and labels from the UK and the rest of the world, many of whom select the show as their launch pad.
The contemporary designer womenswear trade show launched in 2011. Karen Radley, Founder and Managing Director of Scoop, has had an extensive and multi-faceted career in the fashion industry spanning the manufacturing, retail and design sectors, and personally curates the show to ensure exclusivity remains at its heart.
Recognised by designers, fashion buyers and industry experts as the UK's leading fashion trade show, Scoop is an exclusive edit of sought-after fashion collections and emerging international designers, many of whom select Scoop as their only trade platform.
With an impressive line-up of the finest premium collections, Scoop is famed for its unique aesthetic. Carefully curating over 250 designer labels around outstanding works of contemporary art, Scoop offers visitors a unique and bespoke buying environment to discover a host of the new season collections.
Welcoming premium independents and department stores from across the globe, visitors to Scoop have included Harrods, Fortnum & Mason, Bergdorf Goodman, Galeries Lafayette, Fenwick, Brown Thomas, John Lewis, Voisins, Harvey Nichols, La Rinascente, Selfridges, Neiman Marcus, Beymen, Penelope, Printemps and Le Bon Marche, as well as independent boutiques such as Bernard's, Aria, Found, Iris, Jules B, and Courtyard.
Scoop is a Hyve Group plc event.
About Pure London
Much more than just a fashion trade show, Pure London brings together the brightest minds in the industry to showcase the best of the season's collections. Providing a global platform for over 1,3000 womenswear, menswear and childrenswear collections, Pure London is the central hub for brands and designers to meet with top suppliers across the world.
Pure London is a Hyve Group plc event.