 Shifa Aromas launch new collection at Autumn Fair
Yorkshire-based, luxury home fragrance brand, Shifa Aromas, have become well-known in the industry over the past 6 years, for creating meaningful, beautiful experiences for their customer. Shifa Aromas products have been created to become a ritual in your life – there is a fragrance for each room in your home, for each mood you are in, for your wellbeing and relaxation always. At the Autumn Fair at the NEC, founders Jabar and Nafessa, will be launching a new collection, which is set to take the industry by storm, the Silk Route Collection.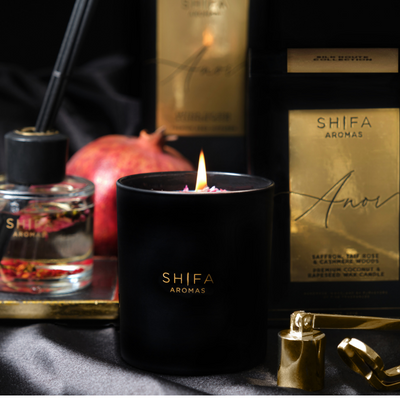 The Silk Route collection from Shifa Aromas is an opulent range inspired by the famous Silk Route, used for more than 1,500 years to trade commodities such as silk, luxurious fruits, spices, teas & porcelain. Jabar says, "In this collection we have curated the essence of the Silk Route through high quality fragrances in a luxurious home fragrance collection that will evoke your senses back thousands of years."
The collection contains a range of stunning candles and diffusers, each hand poured with the love, care and quality come to personify the brand. Jabar says, "As a British brand, we are committed to sourcing our raw materials locally and nationally, ensuring that we remain as sustainable as possible. Our supply chain is part of the Shifa Aromas family – every step from concept to delivery to you is made possible by people who care and are part of this journey with us."
The Silk Route collection has been nominated in the Gift of the Year Awards 2023, which is the first time the brand has entered these prestigious awards.
Shifa Aromas will be exhibiting at both Autumn Fair and Top Drawer, excited to be introducing their brand and the new collection to new customers. Shifa Aromas will be launching the Silk Route Collection this weekend on stand 6K10 and at Top Drawer, K46.
For more information, please visit: https://www.shifaromas.com
or email enquiries@shifaaromas.com