 Spring Fair is Where the Magic Happens
Spring Fair is Where the Magic Happens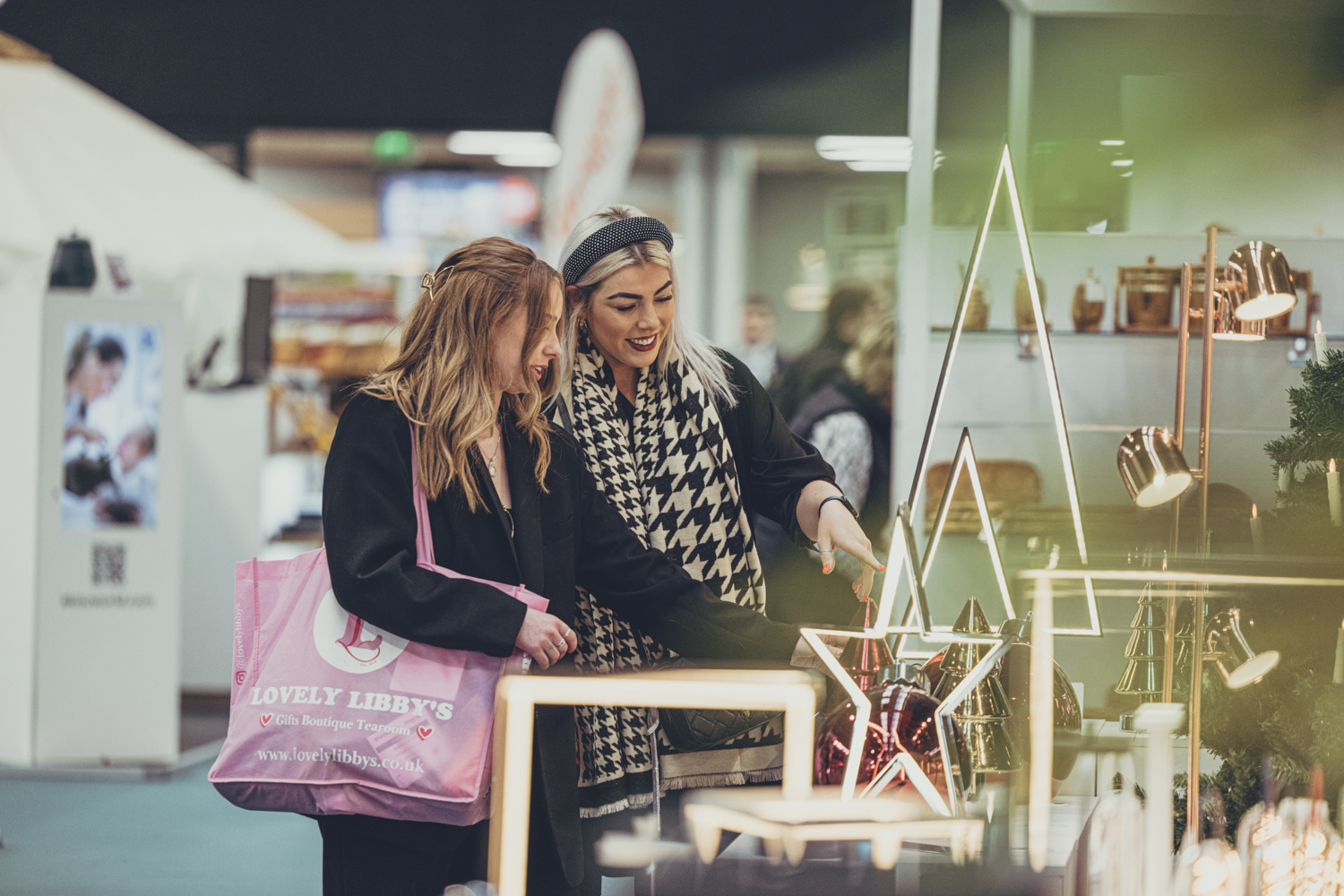 Spring Fair, the UK's leading marketplace for wholesale Home, Gift and Fashion, closed on a high with buoyant feedback highlighting the variety and diversity of retailers in attendance creating a very optimistic outlook for the industry as international buyers and normality returns and cross-buying opportunities create newness and excitement on the show floor.
Nicola Meadows, Portfolio Director of Spring Fair says, "The atmosphere has genuinely been magical over the last four days. The stories we've heard from our fantastic visitors and exhibitors has highlighted what an awe-inspiring, diverse, inspirational, collaborative, and friendly community Spring Fair offers. The scale of business being done across all our Gift, Home and Fashion sectors underpins the value of incorporating so much variety and cross-buying opportunities. It is incredible to hear about so many life-changing connections and micro-communities being developed."
Thousands of independents retailers, online stores, multiples, department stores, lifestyle boutiques, garden centres, pharmacies, florists, museums, destination stores, convenience stores, supermarkets and many more including Very Group, Debenhams, Harrods, Selfridges, Marks & Spencer, Next, Argos, Sainsbury, Tesco, Asda, Hello Fresh, Natural History Museum, TK Maxx, Funky Pigeon, John Lewis, Scribbler, Fenwick, Blue Diamond, Hallmark, Dobbies, Poundsaver, Quiz Clothing, Dunelm, Deichmann, Science Museum, Waterstones, TruffleShuffle, WHSmith, Wowcher, Soletrader, Poundland, Paramount, HMV, Boots, QVC, V&A, and Harvey Nichols visited during the four day show at NEC Birmingham.
Karen Wright, Director of Honeysuckle and winner of the £1000 gift voucher to spend at Spring Fair said, "Spring Fair was great and very inspirational, showcasing a good homeware and lifestyle collection which is exactly what we were looking for. We got what we needed to move our range forward for spring, as well as getting stock for Christmas 2023 with new ideas for themes to recreate at our store. We will now be able to freshen up our shops and show fresh new trends. There was a great selection of suppliers and a great opportunity to see stock and pull together ranges. Over the two days we attended we saw trends and got great ideas for future displays which was a bonus. Spring Fair brings suppliers and retailers together, there is nothing like seeing products in person. The best bit for us was winning the £1000 gift voucher we spent with Coach House, which has really helped us out."
Olivia Hogg from Morleys Store added, "This will mark my 15th visit to Spring Fair as a buyer and it never disappoints on the offer and atmosphere. I had a jam-packed day with suppliers, existing and new. There were a few hero Fashion Accessory brands at the show including Powder and Zelly. As I have multiple stores, I cannot place orders at the show but the brands that can produce a digital favourites report score highly with me. The fair is easy to get to from London and some fab food for lunch down the concourse on the way to The Summerhouse. A must visit for any buyer."
Catherine Morgan from The Little Gift House, Bebington The Wirral says, "I have been coming to Spring Fair for the last 13 years, as my business has been running for 12 years and I couldn't be without it. It is the most inspirational gift show which is centrally located in the UK and accessible whether you come by train, car even if you come by plane. It is such a wonderful place to source ideas and to find new suppliers and just generally get fantastic ideas for your shop and products as well."
Julie Czarnota from The Hidden Hut, Preston says, "I have been to the Spring Fair for a few years, I come to buy candles, Gift & Homeware. I come to Spring Fair rather than other trade shows as you can buy everything in one place. There are an awful lot more suppliers here than any other shows."
Ian & Amanda Dawson from Atique + Urchins Bears, Tintagel Cornwall says, "I have been visiting the Spring Fair for many years. We have placed about 6 orders. Spring Fair is the best trade show in the UK."
Lorraine Wright from Morley Nurseries, Southend says, "It's important to come to shows like this because there is only so much you can understand a product by seeing it online. You can see the quality, feel it, and smell the candles here. This is the main show that we go to as you've got a variety of suppliers and categories."
Martin & Lynn Shaw from Liberty Belle, Sidmouth, Devon says, "We are a gift & furniture store and have come to Spring Fair to buy gifts. We have come to Spring Fair for 10 years and have found this year's show has a better layout, it's more logical and easier to navigate. We have found some potential and new ideas - it's nice to see things in real life, to touch and feel the items. We liked Heyland & Whittle. Once we have digested the ideas, we will come back tomorrow to buy. Online buying is good but it is definitely better to see it with your own eyes."
Pippa Lee from Pippa Lee Boutique, Barmouth Wales says, "We have been coming since Spring Fair started, our store is a resort wear store so have visited today for Moda. We do all our buying in 1 day and have found some hats, sunglasses, Kaftans and flip flops. We loved the brand Waterhaul which uses recyclable fishing wire."
Michael Gleeson from Michael Gleeson Shoes, Limerick Ireland says, "We have done 40% of our buying here. We came to see existing suppliers, but we are always looking for something new. We opened one new account today with a slipper supplier."
The view from a host of exhibitors has been positive and optimistic as confidence in the retail marketplace continues to rebuild.
David Werthein from Ezen Trade in Greetings & Stationery says, "Even on the last day, which is normally the quietest day, we've just had a meeting with the Science Museum, and all of our regular clients from the show too. We've had a successful meeting with Waterstones, and we've got an opportunity with a retailer in America which is very good. The general response of our new range has been very strong which is amazing. We've always focused on Spring Fair as the trade show that we attend, we've been attending since 2013. This is where the magic happens."
Nina White from Eyelevel in Moda says, "Moda has a real buzz this year! We have met with many international buyers who are returning to UK trade shows for the first time since the pandemic and who are showing real confidence in meeting us, feeling, and touching the product and ultimately making orders. Normal service has resumed at last which feels fantastic. We have had a very successful show and will leave Moda tomorrow feeling positive and optimistic for the season ahead."
Nigel Waller, Founder of Art Marketing in Home, Living & Décor says, "We've had a very good opening day. We've been doing Spring Fair for 35 years, it's important to display our stuff so customers can see our products. We come here to meet new customers and of course, see our existing customers."
Hannah Goundry from Home County Candle Co in Gift says, "This is our fourth Spring Fair; we're getting lots of reorders from existing customers and we've met some new accounts. We're really happy with how it's going. We always do Autumn Fair; NEC shows are the best for opening orders and new accounts. In general, we find it more transactional in terms of people are here to place orders, and they're here to do business. We do a lot of business with garden centres, independent businesses, and farm shops – that's our target market with retail. We've met an interesting chain of garden centres this time. We leave the show knowing that we've more than covered the cost of our stand. Spring and Autumn Fair make a difference."
Lisa Beaumont, Founder of Powder in Moda says, "The show has been good so far, it's been great to see our regular buyers coming back to visit us, and lots of interest from new buyers, we've seen really good footfall including international buyers from the States. This is the only show we're going to do from now on for Spring."
Michele Gaudelly from Club Green in Party & Celebrations says, "The show's been going really well. We've got some new customers, the positioning is great, you're getting people from all different angles, which is fantastic, and we're getting good feedback on the stand too. Overall, it's been a successful day. Spring Fair is the main event that we do, we've been coming here for about 30-odd years, we'll always come back to this one, it's a good event and organised well."
Claire Copeland from Give Gifts in Gift says, "Our experience here has been fantastic so far, it's our first trade show. We've had people reach out to us whom we wouldn't expect, and I don't think they expected us either because we are quite a niche brand. It was overwhelming having people visit us from seeing us on the show guide. We've had a big order come in so we're really happy as well as the contacts that we've collected. There are people coming in from all over because we are quite central so we're getting loads of people from Ireland, Scotland, Manchester, etc. I've taken so much away from this experience, even just discussing with other businesses has been a great guide and given us ideas on what we can implement moving forward."
Alice Roberts from Korbond in Everyday says, "Each day at the show is different. We have spoken to customers from different industries with whom we wouldn't necessarily cross paths normally. We usually sell to grocers like Tesco and Morrisons, independent craft stores, and independent convenience and hardware stores, but we have been approached by post offices here too so that will be a new area for us. We've also had a couple of interests from garden centres too, so it's been great to open our business to these different sectors. You have to be open to anyone who stops by, it's the unexpected conversations that can lead to something more. We've now got more new opportunities to explore, so we will have more people to follow up with and more contacts to explore moving forward."
Imogen Haines from BioBag in Everyday says, "The show has been really good with different types of people. There are obviously standard consumers and then more corporate businesses as well, so it's been really interesting to speak to everyone and find out about their businesses. We've had people who are also sustainable brands that want to collaborate with us, so there have been different types of business opportunities. People have gravitated to us because sustainability is important at the minute. We had a launderette approach us asking if we could create a certain bag for them to make their brand more sustainable. The show opens a lot of doors for us, this is a new distribution and it's our first trade show for it – we've learned a lot and I hope that this first one will be a test and we'll continue to grow. The aim of this one was to meet new clients and customers, to create some brand awareness, and to show our faces."
Sylvia Libicka from Amber Hall Jewellery in Moda says, "Our first 2 days at Moda have been brilliant. The show is full of positivity, and we have made wonderful connections. We are enjoying a steady stream of orders from buyers who appear to be enjoying Moda as much as us!"
Sanjay Bhojwani from Elie Beaumont in Moda says, "We have been coming to Spring Fairs for 18 seasons and this show has not disappointed. There has been steady footfall throughout, and we have received great feedback and orders from both existing and new customers. We're already booked for the next show!
Connect @ Spring Fair 2024 takes place on 4th – 7th February 2024.
Connect @ Autumn Fair 2023 returns to NEC Birmingham on 3rd – 6th September 2023.
For further information visit www.autumnfair.com.
For further press information or images contact Philippa Suitters at Good Results. Email: PhilippaS@goodresults.co.uk Tel: 07866362980.