 THE BEST IN UK RETAIL ARE CROWNED AT THE GREATS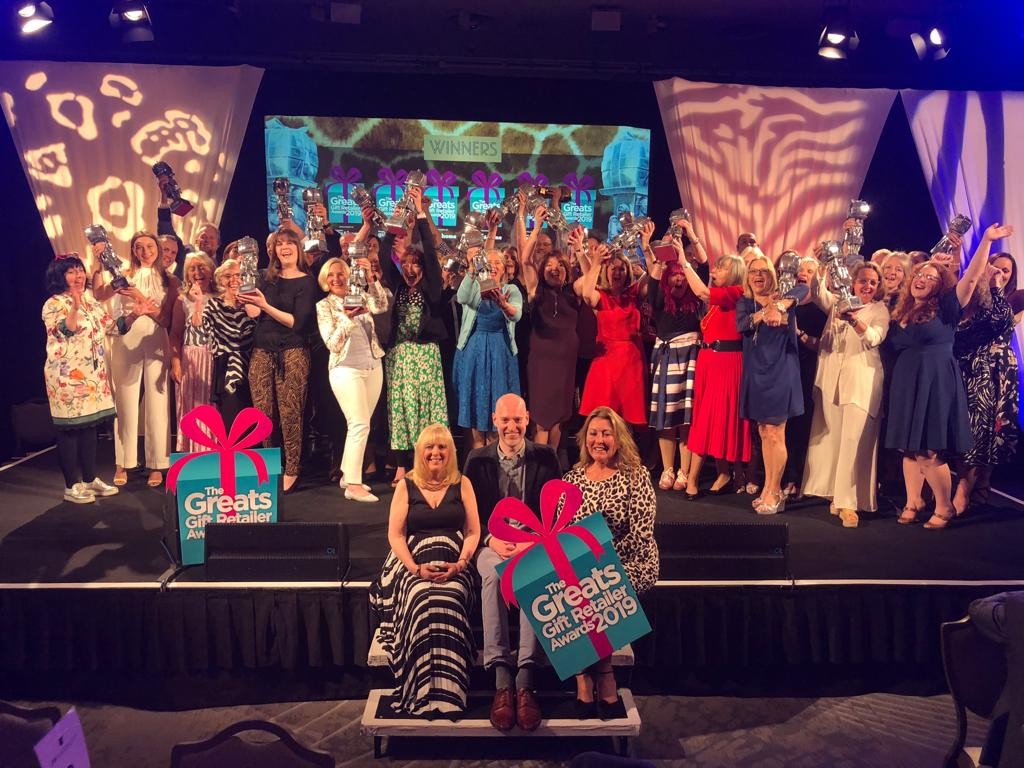 This year's Greats awards held at Grosvenor House on May 15 attracted hundreds of guests to including the cream of gift retail, leading gift suppliers, trade show organisers and gift industry reps and agents – to see the winners crowned at The Greats Awards 2019, organised by leading giftware trade magazine Progressive Gifts & Home.
Taking A Walk On The Wild Side as its theme, it was certainly a fabulous occasion, with everyone enjoying a magnificent lunch, created by the chefs at the Grosvenor House, along with stand-up comedy from comedian and Greats compere Henry Paker.
"Despite the challenges that retail throws at independents and multiples year after year, the best continue to rise to the challenge and it is these 'greatest of the great' gift retailers that we were delighted to recognise and reward this afternoon," stated Sue Marks, editor of Progressive Gifts & Home and GiftsandHome.net.
Special mentions go out to our vice chairman Henri Davis who won the honorary achievement award, presented by CEO Sarah Ward as well as two companies on The Giftware Associations table, Papillio at Heritage who won the best non-specialist retailer of gifts and Mooch for best independent gift retailer of the year - Best newcomer Midlands, North and Scotland
A huge congratulations to all the winners which you can find below
The 2019 Greats Awards winners are:
Retail Employee of the Year 2019
Beverley Yates, shop manager, Maddison, Harborne
Independent Gift Retailer of the Year – London (inside M25)
The Present, Barnet
Independent Gift Retailer of the Year – Home Counties, South and South East
Etcetera, Hitchin
Independent Gift Retailer of the Year – East Anglia
Loft & Spires, Bury St Edmunds
Independent Gift Retailer of the Year – Midlands and Wales
Joco Interiors, Nuneaton
Independent Gift Retailer of the Year – North and Northern Ireland
Williams of Audlem, Audlem
Independent Gift Retailer of the Year – South West
Jo Amor, Tiverton
Independent Gift Retailer of the Year – Scotland
Spirito, Glasgow
Independent Gift Retailer of the Year – Best Newcomer South & Wales
Highworth Emporium, Highworth
Independent Gift Retailer of the Year – Best Newcomer Midlands, North and Scotland
Mooch on St Giles Street and Mooch Bell, Northampton
Best Specialist Multiple Gift Retailer
Between The Lines
Best Department Store Retailer of Gifts
John Lewis & Partners
Best Non-Specialist Retailer of Gifts
Papilio at Heritage, Thornbury
Best Lifestyle Or Homewares Retailer Of Gifts
The Emporium, Clitheroe
Best Gift Retailer Of Jewellery & Fashion Accessories
Bijouled, Harrogate
Best Garden Centre Retailer of Gifts
Garsons, Esher & Titchfield
Best Museum Or Visitor Attraction Gift Shop
National Memorial Arboretum, Alrewas
Best In-Store Or Window Display
Pure Inspiration, Ramsey
Best Online Or Mail Order Gift Retailer
Oliver Bonas
Best Retailer Initiative
Feathering Your Nest, Rayleigh For its Angel Wings window
Best Service To The Independent Retailer, Bronze Award Winner
Enesco
Best Service to the Independent Retailer, Silver Award Winner
Widdop and Co
Best Service to the Independent Retailer, Gold Award Winner
Joe Davies
Honorary Achievement Award, Winner 2019
Henri Davis