 THE GA ANNOUNCED AS HEADLINE SPONSOR FOR GOLDSMITHS DINNER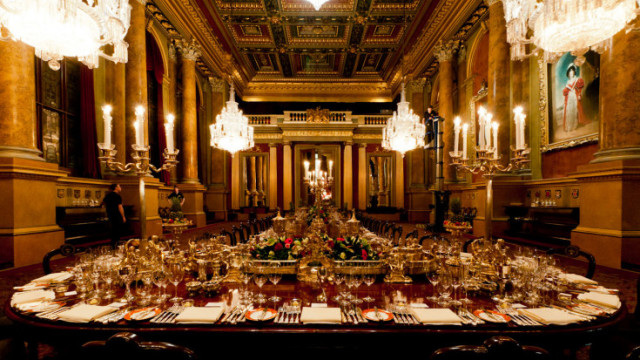 THE BENEVOLENT SOCIETY ARE DELIGHTED TO ANNOUNCE THE GIFTWARE ASSOCIATION AS THEIR HEADLINE SPONSOR FOR THE EXCLUSIVE DINNER BY CANDLELIGHT AT GOLDSMITHS HALL.
The Benevolent Society, the British Allied Federation's charity, is hosting one of the highlights of our industry's calendar. This year's event, held on the 14th June, to thank the Benevolent Society's sponsors and supporters, is a dinner with entertainment by candlelight at the prestigious Goldsmiths' Hall, London. The Giftware Association is proud to be the headline sponsor of this event.
With the first allocation of 142 tickets now sold out, the popular and exclusive event promises to be a night to remember. Due to exceptional demand a final allocation of an extra 50 tickets has just been released, providing the final opportunity for a few more guests to attend this prestigious evening.
Thanks to the generosity of the British Allied Trades Federation and Goldsmiths' Hall, the cost of the tickets has been heavily subsidised, offering guests the extremely rare opportunity to experience dinner at Goldsmiths' by candlelight at the greatly reduced rate of just £95 + vat for the first Members Ticket, and then £145 + vat for any tickets thereafter, to include the Drinks Reception, Dinner, half a bottle of wine per person and entertainment (extra wine will be available to purchase on the evening). This really is an opportunity not to be missed!
The Benevolent Society, a charitable arm of the British Allied Trades Federation, financially assists individuals that have worked within the giftware, jewellery, surface engineering, travel goods and fashion accessories industries. The society also helps individuals starting or progressing their careers in these industries through bursaries to help with their studies.
The final allocation of tickets will remain on sale to members of the British Allied Trades Federation's federated associations until 14th April. Due to the very limited number of tickets available those who are interested in attending are urged to secure their tickets as soon as possible by emailing gill.price@batf.uk.com. If you are not a member of the BATF you may still apply for tickets but may have to join our waiting list.
Further sponsorship opportunities are still available, and details can be obtained by emailing Gill Price, as above, also.
The Benevolent Society are delighted to announce that The Giftware Association will be the headline sponsor for their Annual Sponsors' Dinner 2018.
The GA represents companies from across the gift and home industry – manufacturers, designers, wholesalers, importers, exporters, retailers (independents, multiples and online) – from sole traders to major PLCs, offering them help and support to help them make money, save money and save time by offering a wide selection of services and support.
The Benevolent Society is also extremely grateful to Charles Green & Co, Facets PR, Hockley Mint and Jeweller Solutions for sponsoring the event.