 THE GIFT STOP WEBINAR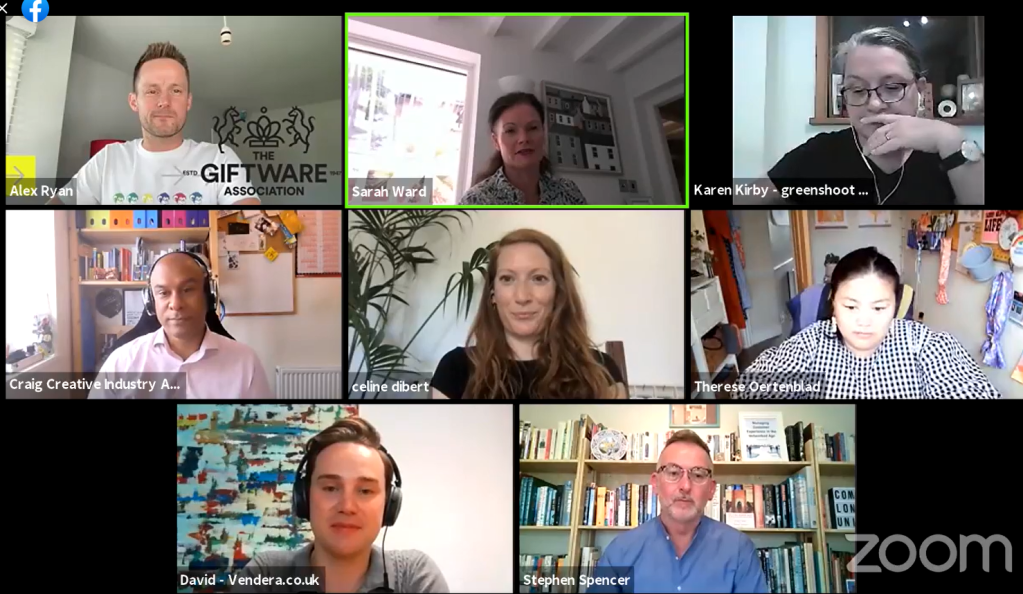 In this episode of The Gift Stop webinar; we went into some of your burning questions and explored topics of various interests, ranging from how England's football success may affect the economy to the survival of John Lewis. You don't wanna miss this one!
00:00: Intro
00:02: Introductions
00:08: Football - Will England's success boost the economy?
00:09: Opening of shows - with shows going ahead, how are suppliers going to create a safe experience for their buyers?
00:12: Many people say that larger orgs have long payment terms (60-90days). Is asking for a deposit acceptable?
00:15: Most trends online are geared towards demographics under 50. Any tips on finding trends for over 50 demographics please?
00:19: Room Reset
00:20: Recap
00:21: Vaccination - will there be requirements and will people be forced to have them in the workplace?
00:23: How is track and trace going to work at something like Harrogate Home & Gift?
00:31: Container issues and prices going up - How is everyone in their businesses dealing with the knock on effect of the prices rising?
00:38: 2nd Reset - Quick reintroductions
00:40: John Lewis turning some of its stores from residential to high street.
00:51: What's new in the world of HR and how can businesses adapt to new changes?
00:54: Are we still in terracotta and what are the latest trends?
00:59: Are Craig's members still making things and how is it going?
01:00: Outro
00:08 - Football - After the lockdown, something like the success of England in football was needed and will boost the spirits of the people who need it due to the lockdown.
00:09 - Opening shows - How are the organizers flowing attendees? There could still be nervousness amongst the visitors so organizers must ensure all sanitation is good. Attendees should be careful about the people around them (be self aware) and consider if it is worth going to events.
00:12 - It is more common in some industries, some are more competitive when it comes to this. Try not to put your business in jeopardy. Should definitely consider trying but don't do anything you might not be comfortable with. Some credit cards such as Capital One Tap are heavily supported and have helped a lot of small businesses.
00:15 - Do some research on what social networks they use. This is good for general research about your demographic. You will find out a lot about your demographic through social media research. TikTok is really good to look at for trends. A lot of older people are now on TikTok. Think about how to utilize TikTok.
00:21: Employees cannot be forced to take vaccines but employers can encourage it. It may contain some sensitive and protected data which is protected by law. Have to make sure not to discriminate against employees who are not having their vaccine as it is a choice. Can be different with customers however, you can choose not to allow non vaccinated customers into your business. Could use vaccinations for PR and Marketing but be careful about the HR side of it.
00:23: Still trying to find out about it. Can act normal at events if you've had the jab or can prove yourself with track and trace (don't have to socially distance or wear masks). Apparently you'll get notified if you are with someone who has covid but you will not get a self isolation notice; only to let you know someone with covid was around you and you can order some home test kits to ensure you didn't catch it. Original version of track and trace would ping anyone within a 4 hour time frame of checking in but now the new version is more accurate. People usually make their own assessment before going somewhere and the show organizers are very clear about everything online before you go. Use common sense and avoid risky situations. You wouldn't go if you thought you're going into a dangerous situation.
00:31: Shipping costs going up means that some businesses cannot ship from China. Overall, prices going up has had a big effect on businesses. Massive jumps from for example £1,800 to £25,000. Find a way to source things from places closer to the UK. Consumers may be more accepting of price rises of some products.
00:40: Before the pandemic and Brexit people thought charity shops may disappear and we would see more indie shops. One retailer which has been amazing during the pandemic is Tesco. Tesco has impressive customer service and are utilizing their ClubCard very well to lock customers in. Waitrose on the other hand is the opposite. They had a section where you could just pick up unpacked items into your own containers but they located it at the back of the store and therefore no one uses it. Waitrose also has a bad work culture and is not behaving to customers well (not all stores). Some positives about Waitrose: Waitrose rapid - place an order and have items motorcycled to you (didnt work but still they made some effort)
John Lewis are not thinking like retailers but civil service. Closing stores and converting space to other things. John Lewis is also nowhere near as closely intact with its customers as it thinks it is. They don't test their customer knowledge against reality. The English football team has a great humble but focused manager and we need to see more of this in the highstreet where the shops learn from this.
00:51: Probably going to be some legal changes. Being able to request flexible working will be a recruitment requirement and not something that you get after 6 months of work. People have been thinking about work a lot during the lockdown. A lot of employees will be asking about flexible working so businesses really need to think about it and think about how to make it work. Nervousness about covid will still exist and employers need to talk to employees about what they want and how they can overcome this.
00:54: Do PR about trends. A lot of brands have been moving to multifuncional space and things in general that are just multifunctional. More plants are coming into the house as well as. Mindfulness and indoor wellness. Vintage nostalgia - a lot of vintage looks for indoor spaces. Pastel colours are becoming popular since the beginning of the year and have been a big trend. Dry flowers are more popular. Lavender colour has been huge with interior and gift industries. These trends will be popular for the next 6-8 months.
00:59: Mindfulness and wellbeing. We have become a beautiful human race, caring about ourselves and each other. Gonna be exciting during the next couple of months. Lots of businesses are doing social media tutorials and tips on things like yoga and wellness and mindfulness.