 THE GIFTWARE ASSOCIATION AGM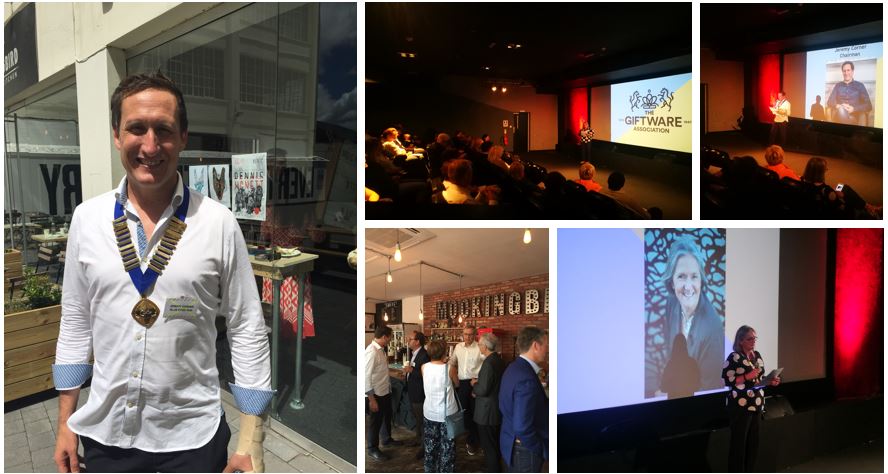 Giftware Association members and non-members alike, were met with a new chairman, all important high street Information, panel debates and plenty of networking opportunities at The GA's AGM and Members' Day on the 20th of June.
The AGM held in Digbeth, Birmingham, known as the city's creative district, was a suitable backdrop to our members' creativity and innovation within the giftware world. Also fitting was the venue, independent bar and cinema The Mockingbird, which was the perfect place to sit back and enjoy the show.
[gallery ids="4171,4172" type="rectangular"]
Kicking off with the AGM formalities, outgoing chair and independent retail expert Henri Davis gave an outline of her time as chair and some of her favourite moments, before handing over the chain of office to Blue Eyed Sun's Jeremy Corner, who laid the path for the GA's future. Gert Schyberg of Sebini was also announced as vice chair (meaning he will take over as chair in 2020) and Henri will remain as deputy chair. These three will head up the GA's current National Committee, whose members come from across the giftware world. Three members were re-elected for a further two years: Amanda Fergusson; Clive Briscoe of Apples to Pears; and Howard Thomas of Giftscribes.
Keynote speaker and high street expert Michael Weedon from Exp2 took to the stage to wow the audience with his view on the high street. Using in-depth data and on current trends, beautifully presented, Michael weaved a story of the high street that was more about hope than the doom and gloom you might read about in the national press.
[gallery ids="4173,4174" type="rectangular"]
After a networking lunch, allowing suppliers, retailers and service providers to mingle, the panel discussions kicked off covering regulation, IP and compliance, through to the importance of industry awards and then futureproofing a business. The panels offered open debate from the panellists' own experiences and expert views, as well as taking questions from the audience.
Sarah Ward, the Giftware Association's CEO said, "The aim of the day was for it to be all-inclusive and for everyone to take away a learning. When our membership covers micro business through to multi-million pound companies, it's hard to find content that suits everyone, but speaking to people after today it seems that the mixture of subjects and panellists sharing their knowledge has seen people learn and take something away."
[gallery ids="4175,4176" type="rectangular"]
The minutes to the meeting are available through the GA team and the Associations finances for the year are available on the British Allied Trades Federation website.
For the days minutes and finance reports, please contact luke.palmer@ga-uk.org