 Thoughts of a CEO | 22nd July 2022
Thoughts of a CEO | 22nd July 2022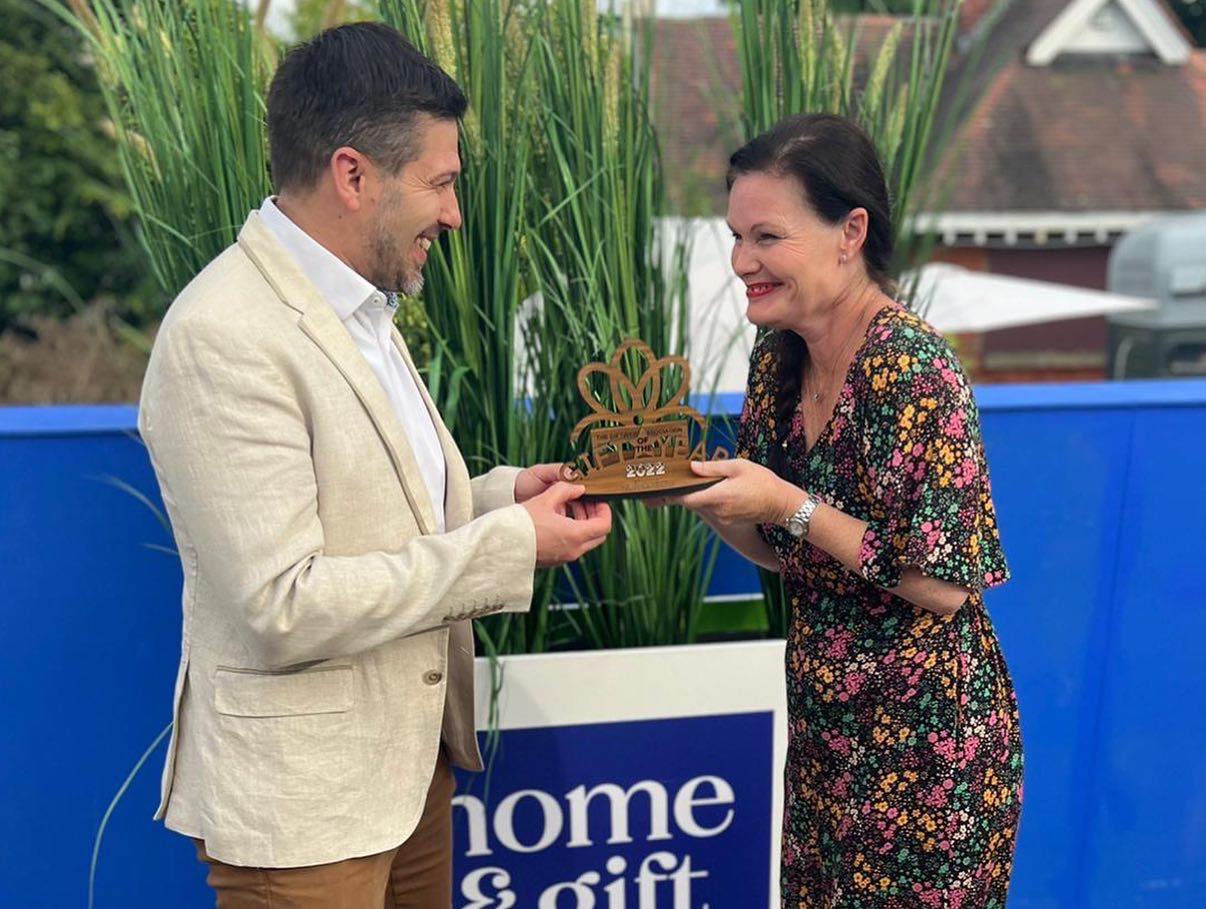 I write this at the end of an exhausting few weeks in which we have been at Glee, Harrogate Home & Gift and at the summer reception with Hong Kong Trade Development Council in London. It's enabled me a period of reflection on how we embark on the coming months in what is arguably the most challenging period to date in a few years already beset with challenges. None of us can continue to operate our businesses in the way we have already done – there needs to be a radical change in behaviour and thinking.
I want to start this month's Thoughts of a CEO, on a positive note, though still very much connected to the need to change and engage with customers: The People's Choice Award, which was announced on Sunday evening at Harrogate Home & Gift. The Gift Awards in May gave us an opportunity to celebrate the judges' winners in each category, and what an incredible evening of celebration that was. The People's Choice Award was introduced for the first-time last year as an opportunity for customers, your customers to vote for their favourite product.
I think moments like this in our industry are absolutely crucial, and consumers know what they want, right? The retail landscape caused by the pandemic is one of constant shifts and changes. It has been almost impossible for some businesses to plan as they were used to pre-pandemic, as challenges with supply chain, the war in Ukraine, Brexit and inflation roll on.
What we do know is that consumers are more conscious now than they have ever been. They seek transparency and authenticity when being communicated to by brands, they seek quality brands who stand by their values, and they seek joy. Our very worthy winner of this year's People's Choice Awards delivers all of this and so much more and their customers and champions clearly believe they deserve to be crowned as the final part of our Gift of the Year Awards 2022. So, huge congratulations to Cardology, this year's People's Choice winner.
The announcement of this award happened amidst an atmosphere of incredible camaraderie in Harrogate. The punishing weather undoubtedly impacted on buyer footfall, but exhibitors remained upbeat. What was interesting to me when discussing the show with various members towards the end, was that people had vastly different experiences. So, what were the differentiating factors in businesses experiencing success?
· Marketing in the run up to the show – how hard are businesses working to drive their own visitor numbers?
· Actively networking and making connections – there is business to be done, and it may not always walk up to you at your stand. Shows need to facilitate real networking opportunities and businesses need to talk to each other, drive progress.
But the onus shouldn't just be on businesses to make trade work. I have now visited every UK trade show so far this year and several overseas as well. They too need to think about how they can adopt radical change to ensure businesses can thrive at their shows:
· Theatre is crucial – we need to bring people together to share moments, learn from each other and connect
· Beneficial pricing structures that support businesses of all size and potentially enable discounts for three-year contracts
These are just a couple of ideas to throw into the mix. I would love to know your experiences this year and understand what you believe needs to happen in 2023 and beyond.
Trade is everything and I have been banging the drum of international opportunities for GA members loudly since Covid restrictions lapsed. It is a mixed picture out there and we are fielding more enquiries than ever on international trade. We have some incredible Sharing Lunches happening later in the year on sourcing (led by Talking Tables) and exporting (led by Gisella Graham) which have been created for our members in response to this.
My recent visit to the Hong Kong Trade Development Council meeting in London was rather sobering. After so many years of vibrant and dynamic trade opportunities, the combination of a change of governance and the impact of Covid, means that things look challenging, to say the least. It's time for us to come together to share knowledge and opportunities – to think differently and retrieve our global networks from the grip of acts of God, and beyond.
The other issue that is dominating our member meetings is that of credit control. Sadly, a sign of the challenging times we are in, but there is an increasingly amount of bad debt out there and the GA is finding new ways to help. Bad debt can have a crippling effect on growth and productivity, so we are in talks with "Let's Talk Credit" to set up credit control forums to support our members with this crucial issue.
I want to leave you on a high by coming back to Gift of the Year. We launched the Gift of the Year Awards 2023 last weekend and have been inundated with entries this last week. Now, more than ever, we need opportunities like this to get products in front of industry judges (over 100 of them will be judging the 2023 awards) and celebrate the best of the best. Enter your products here: https://www.giftoftheyear.co.uk/enter-2023
Until next time,
Sarah x