 UNIQUE AND SUSTAINABLE GIFTS THAT GROW FOR UNDER £10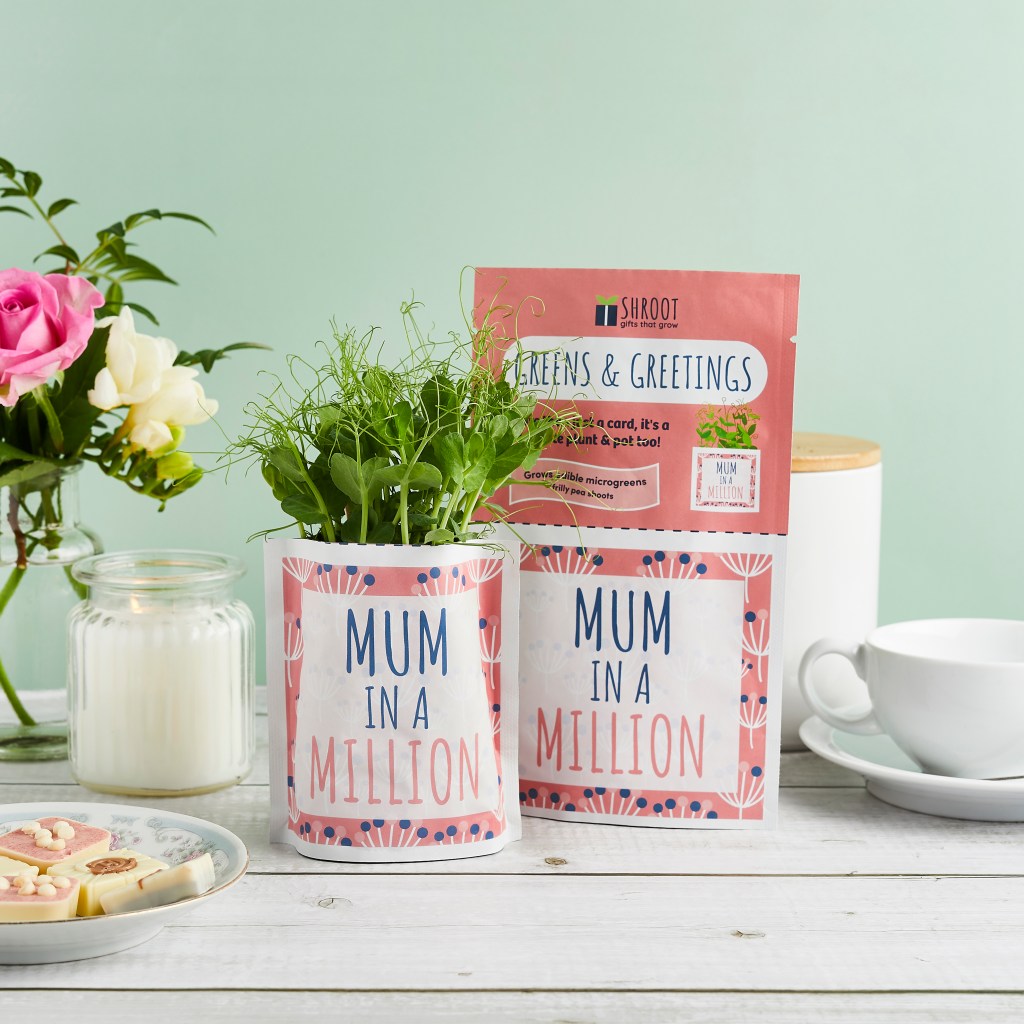 Award-winning company, Shroot, is run by two busy Mums who wanted to create gifts and greetings that were unique, fun and eco-friendly. They launched Shroot in January 2021 and now, nearly one year on, they have 2 ranges of sustainable products (all hand-packed in the UK).
They are all available to order on www.shroot.co.uk as well as being stocked in over 50 independent shops and garden centres across the UK. Their first product, Greens & Greetings (RRP £6.99), was born out of lockdown as a way of reaching out to friends and family. It's a means of letting others know you're thinking of them and providing something fun and different to do too. It's a letterbox-friendly gift, card and plant pot in one. Just like a traditional card, there's an attractive design on the front and space for a personal message on the back.
But this clever little product is so much more than just a card! It contains everything needed to grow delicious and nutritious microgreens right inside the 'card'.
It's made of widely recyclable material and contains a coir soil block (made from coconut waste), microgreen seeds (non-GMO and from a UK supplier) and a wooden stirrer, making it eco-friendly gift/greeting. There's nothing else quite like Greens & Greetings on the UK market. With seven unique designs available, they're a fun alternative to birthday, Christmas or Mother's Day cards, or just to show you care, any day of the year.
They can be posted anywhere in the UK with a large letter stamp, and they're so simple to use. All the lucky recipient needs to do is add water to the soil in the bottom part of the stand-up pouch, sprinkle the seeds over the soil and pop the greeting on a windowsill. About 2 weeks later they'll be tucking in to some tasty homegrown microgreens. These super trendy superfoods are a perfect garnish for salads, sarnies and more. Wildflower Wishes (RRP £7.99) are the latest product range – there are currently 4 designs available, making them ideal Christmas stocking fillers, or gifts for Valentine's Day or Mother's Day. You write your wishes on the enclosed 'wish papers', plant them in soil, sprinkle over the 'wish dust' and watch your 'wishes' grow…beautiful UK wildflowers. The wish papers are 100% biodegradable and are made from recycled materials.
They're embedded with a range of UK wildflower seeds such as meadow buttercup, red campion and musk mallow. The paper will break down and the seeds will bloom and grow. The 'wish dust' contains UK wildflower seeds and biodegradable glitter. Planting wildflowers adds natural beauty to windowsills or gardens and these nectar-rich plants help support dwindling populations of native pollinators such as butterflies, moths and bees. Shroot have had a busy first year, attending their first trade show (Top Drawer), winning their first award (Rising Star at the Wales Start Up Awards) and product mentions in the national press (Prima, Metro and My Weekly to name a few). They are excited to find out what 2022 brings.
They have entered the Gift of the Year Awards competition and are developing new, innovative eco-products, as well as continuing to add to their list of stockists. For more information, contact carolyn@shroot.co.uk or visit www.shroot.co.uk.