 WHY ENTER GIFT OF THE YEAR

If you have previously entered Gift of the Year you will understand how special the competition is and how it can boost your business and the products you enter to the next level. But what are the other benefits you get from entering?
1 Year FREE membership of Pressloft for the overall Judges' Choice winner to help build your own PR across huge brands
Endorsement of your business with an acclaimed Gift of the Year status
Display of your winning products in the Gift of the Year showcase at Spring Fair and Autumn Fair 2021 at the NEC, Birmingham - This could potentially be digitally
Promotion in a full-colour catalogue for all winners and highly commended, widely distributed within the UK and overseas, as well as the pride of place on the website amongst our previous winner's page
Participation in a high-profile awards ceremony at Spring Fair 2021, with trophies, presented to the winning companies - This again could potentially be a digital awards ceremonyGain exposure to a panel of distinguished buyers and retailers who regularly use the competition as a sourcing guide especially with the disruption to shows and events
Profile-raising media coverage within a major PR campaign to national trade and consumer pressPoint of Sale material to place on products and in-store
Enter the competition today to really boost your brand and be seen by our retailers and judges, but don't just take our word for it, hear from previous winners below...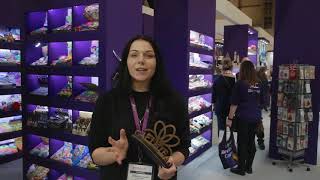 Puckator Video


If you have any questions or would like to know more then please get in touch with the team who will be more than happy to help and guide you through your entry.on awards@ga-uk.org
You can enter the awards HERE
     WHY ENTER GIFT OF THE YEAR


If you have previously entered Gift of the Year you will understand how special the competition is and how it can boost your business and the products you enter to the next level. But what are the other benefits you get from entering?


 1 Year FREE membership of Pressloft for the overall Judges' Choice winner to help build your own PR across huge brandsEndorsement of your business with an acclaimed Gift of the Year status  Display of your winning products in the Gift of the Year showcase at Spring Fair and Autumn Fair 2021 at the NEC, Birmingham - This could potentially be digitally Promotion in a full-colour catalogue for all winners and highly commended, widely distributed within the UK and overseas, as well as the pride of place on the website amongst our previous winner's page Participation in a high-profile awards ceremony at Spring Fair 2021, with trophies, presented to the winning companies - This again could potentially be a digital awards ceremony Gain exposure to a panel of distinguished buyers and retailers who regularly use the competition as a sourcing guide especially with the disruption to shows and events Profile-raising media coverage within a major PR campaign to national trade and consumer press Point of Sale material to place on products and in-storeEnter the competition today to really boost your brand and be seen by our retailers and judges, but don't just take our word for it, hear from previous winners below...
                       Puckator Video                                            Fikkerts Video
 
 
If you have any questions or would like to know more then please get in touch with the team who will be more than happy to help and guide you through your entry.on awards@ga-uk.org

THANK YOU 

THE GIFTWARE ASSOCIATION TEAM