 AMBIT - A NEW COLLECTION FROM SUE URE MAISON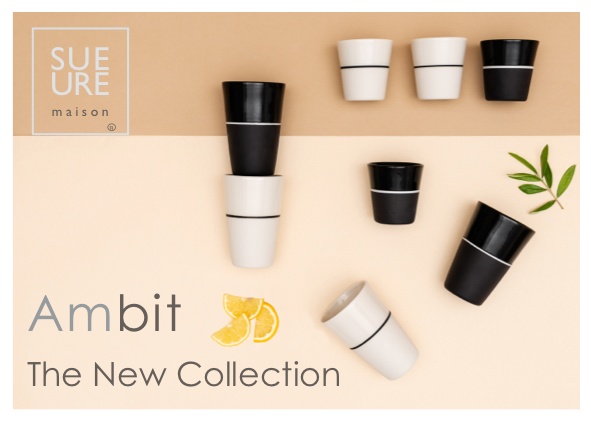 I've been waiting so long for this new range to see the light of day, I'm actually quite nervous about finally showing it.
The hiatus created by Covid, allowed me or imposed on me (and many others), a pause. For me, that gave me time to rethink my original design and do it again, differently! Ambit, like all my designs started life as studio pieces made in my workshop.
Ambit is about contrasts and boundaries.The contrast between light and dark and between glossy and matt and the border that separates the two.
Then we arrive at just what makes a good cup, mug or beaker for drinking. I have to confess to being guided essentially by my own tastes here, a wider, more quickly cooling mug for my breakfast coffee - a taller, slightly more capacious mug for my tea, which I drink more slowly. Cold drinks just shouldn't be served in a handled piece! A beaker is so versatile - drinks, nibbles, desserts, plants or simply decorative.
Made in beautiful and resistant black and white porcelain.
The stylish stream-lined Ambit designs are available in white porcelain with a fine black line, and in black porcelain with a fine white line.
The top half is glazed and the lower half is unglazed, creating a lovely visual and tactile contrast. The same shiny glaze is used for the interiors which feature a light surface ribbing echoing throwing lines.
A decorative button bosse finishes the handle.
The range is made up of a small and a tall beaker and a wide and a tall mug. Fully microwave and dishwasher-safe.
The collection is available for delivery now from our UK distribution centre.
Dimensions and capcities:
small beaker: dia 6.7cm, height 7cm - capacity 95ml
wide mug: 9.3cm dia, height 7.5cm - capacity 200ml
tall beaker and tall mug : dia 7.5cm height 11cm - capacity 215ml
For more information please contact Sue at info@sueureceramics.com