 CHARITY DAY FOR ALL 'FROM YOU TO ME' PEOPLE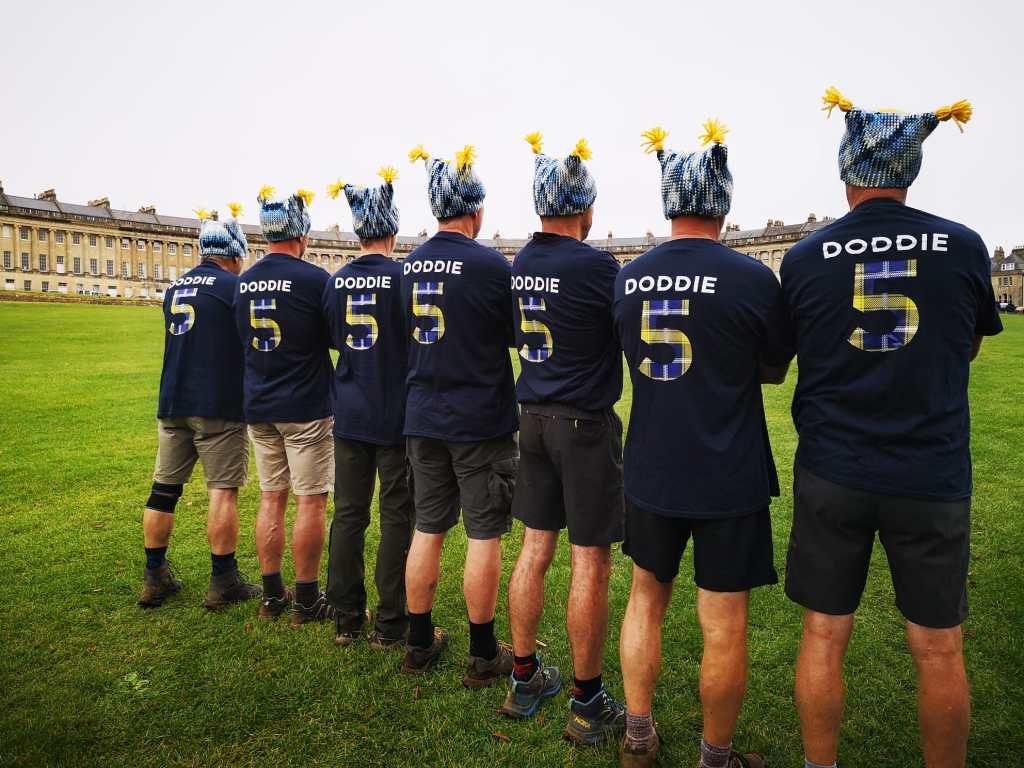 I had a wonderful experience this year participating in a charity walk with six friends to raise funds to help sufferers of Motor Neurone Disease (MND) and to aid research into this disease.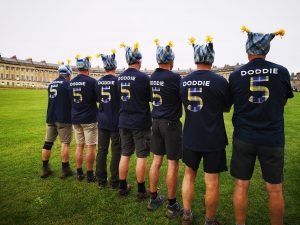 I did it with a group of friends who, decades ago, all worked together. Now cards, sport, fun, food and drink provide the catalyst for gatherings and mayhem.
Neil Watkins (known as 'Neil the Elder') is one of the group and 2021 was the 25th anniversary of the passing of his brother, Andrew, from Motor Neurone Disease. Andrew was just 36.
'Neil the Elder' wanted to do something to mark his brother's passing and decided he would walk the 102 miles of the Cotswold Way in under a week and raise money for the My Name'5 Doddie Foundation. This charity helps fund research into the causes of MND, to investigate potential cures, and to make grants to sufferers of MND and enable them to live as fulfilled a life as possible.
He invited the rest of the group to join him and share the craic and pain of 102 miles of walking and naturally everyone in the group accepted the challenge.
Together we raised over £10,000, however, the experience was about much more than just the sponsorship. We joked that we needed to raise more money than it cost us to do the walk ... otherwise we could have just stayed at home and written a cheque for the charity ... but we absolutely agreed that the experience was 'priceless'.
We supported a friend and his family who had been affected by this awful disease and the whole group bonded well as we discussed the impact it had had on people.   In addition, the chance to walk as a large group, as small groups or even on our own, was inspiring. The topics of conversation were wide and varied - from deep and heavy on occasions to the complete fun nonsense - but whatever we covered helped us end the walk feeling closer to each other than we did at the start.
As I hope you will know, I feel strongly that our From You To Me products all help people to feel closer to their family and friends. In addition, the way we all care and deliver our service is so important for our customers. I try hard to create a culture to support this mission, and with my experience of this charity event at the end of last year, I have decided to offer all our people the opportunity to do some charity work to support an area that is important to them.
In addition to any annual holiday, I have organised to give everyone an extra day off every year as a 'charity' day. This is a day when I would love people to spend their time supporting, in a way they decide, a charity that is close to their heart.
I am really looking forward to hearing more about everyone's plans for this day as they evolve and would also love the team to share their experiences with each other when it has been done.
I sincerely hope everyone enjoys and grows from this special charity day but, more importantly, I hope the charities that are chosen really benefit from our touch.
Life Matters ... Pass It On.
Neil (the younger!)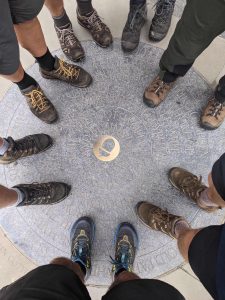 Neil Coxon
From You To Me ltd
THE AUTHENTIC CREATOR OF HIGH QUALITY, BEAUTIFUL & EMOTIVE
JOURNALS of a LIFETIME | CHILDREN'S STORYBOOKS | STATIONERY
Website: FromYouToMe.com
Instagram: fromyoutome_ltd
Facebook: fromyoutome
Twitter: fromyoutome