 THE GIFT STOP - 20TH AUGUST - WHAT YOU MISSED...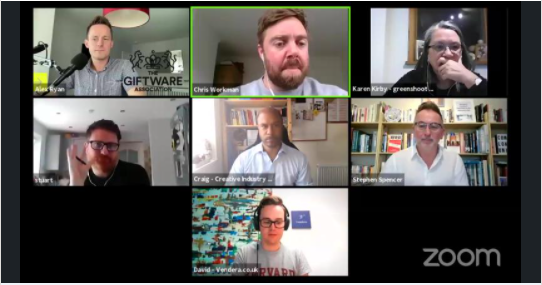 In case you missed this weeks The Gift Stop, please see a review of what you missed out on.
00:00 - Intro
00:02 - Trade shows and market places (with there being so many marketplaces, how does a company choose the best one and what are the pitfalls for them)?
00:14 - Refresh the room
00:15 - Are there any market places that you would recommend people avoiding?
00:17 - Castore and David Lloyd partner
00:28 - Celebrity and social influencer marketing, should we still be chasing down influencer marketing?
00:35 - Refresh the room
00:36 - Whats next after furlough?
00:50 - Refresh the room
00:51 - What are the trends and what's coming up in the latter half of the year?
01:00 - Outro
NOTES
00:02 - It is something that should be thoroughly taken through a process. Some marketplaces are more expensive than others. Some seem good but charge a hefty fee. When choosing a market place, make sure it works for you. Make sure it works with your product so youre not always updating stock and inventory. Most marketplaces make their territory available. Look at your platform build and then look at the add ons and that will help you find the correct marketplace.
Part of it is that it is a massive minefield. See what others and your competition are doing. Look at what's popular. Some people overpay for being on various platforms without getting good returns for it. Seek help and support if you don't know what to do.
Focus, be clear on your proposition and who your customers are and where they are. Take advice from associations. Show why you're different from the competitor.
A lot of marketplaces have their own marketing, firstly have a look at it incognito to see how they repost and reposition. Try to talk to the marketplaces before you make a decision but at the end of the day it all goes back to how your site is built and what your sites capabilities are. Move forward from once you know that
00:15 - There are ones that will work for some but won't for others. There aren't any that you should just straight up avoid, but people may have different preferences so monitor it and see what works for you.
00:17 - If they can do a better job than DL and each sticks to their expertise and are compatible it would be a very smart move. There are more and more collabs right now, it's the way forward especially after coming out of the last 18 months. If done for the wrong reasons then they usually end in tears but this one sounds like a good move. Some collabs are just about making money and not actually there for the customers.
00:28 - From a brand standpoint either it's financial or they think they understand their customer. But because of the last 18 months, very few firms actually understand their customers. If a manufacturer is thinking about this type of collaboration, they should know that we've fallen out of celebrity endorsement. It's all different because of the last 18 months. There are great opportunities but they will have to be at their best. Nowadays , people would rather listen to a friend's recommendation than a celebrity who's being paid to say good things about the product. Instead of celebrity endorsements, have a look at the social media feeds of the Yorkshire Tea company. They are brilliant at driving engagement from people who buy nothing from them as well as people who don't drink anything else. They are really natural in how they speak to the consumer and at one point they actually asked followers to stop following them because they discovered some followers who did not align with their views on certain political issues. It is really important for the largest and smallest companies to start talking to other humans as we all do. That's what causes engagement.
Work with influencers however is still growing in importance. Influencers are more honest and out there. They endorse that they've been paid whereas a celebrity would never say that. Influencers are more conscious and fussy with brands so they find something they actually believe in and can sell to their audience. Brands make it clear they give their product as a gift and don't do paid products to them. Then the influencers review it.
There are lots of ways to attract an influencer. First you must understand your brand and product, head to social media and track down who you think would be appropriate. Can be a micro influencer at first. Doesn't have to be a giant influencer as a micro influencer could be more genuine. You can also go to a competitor's IG feed and instead of seeing their posts, see who's tagging them and look for the big posts and you will see who's influencing them, then reach out to them. Go with a micro influencer first and then work up.
00:36 - Do people self isolate or not?" Is the biggest question. What do you do as an employer in that case? Advice said that if you're pinged by the NHS app you don't necessarily have to self isolate. Try to find out who has and hast been double jabbed but this may be difficult due to data protection laws. Some employers don't want to isolate people. As furlough comes to an end, the rush to make people redundant has already happened. Few people might lose their job. Employers should start communicating with people they have on furlough and tell them if they're planning on bringing them back. Think about what you need to do and if there is still capacity and space for the employees. Think about what the right thing to do is. Don't be naive about what's going to hit you when you come back. First line of customers are the employees so happy teams make happy customers which make happy companies in terms of profitability. Gotta make sure employees are happy and how the employers can facilitate them. HR will come into their own right now. More people are thinking about working for themselves rather than going back to work. Time for businesses to look at themselves, see what they did during the pandemic and see if that helped and can be brought forward and see what can't be brought forward and get rid of it. See how they interacted with customers. People are forgiving, so businesses should try something new and see what works and people might like it.
00:51 - Anything and everything to do with the home and garden. Align your product with the home and garden industry. World of fashion is suffering. Whilst we've all been locked at home, more people are longing for nature and realise that renewing our wardrobe twice a year ain't it anymore. Fashion made everyone market their stuff seasonally from a long time ago. It doesn't seem right anymore to spend money on our wardrobe twice a year and throw away stuff we've barely worn. People will switch to home and garden and it will replace all of the things to do in our free time. It will lead the way from here on in. More DIY, decorating and buying products that surround those topics. It is a permanent shift in consumer behaviour rather than just a reaction to the pandemic. The fashion world is not fighting it but understanding where we are. Gucci is launching multi seasonal stuff and moving more into athleisure. People being more comfy is becoming the norm and fashion brands are understanding what needs to be done. Manufacturers of anything to do with home collabing with fashion designers as they have clever designers with an understanding of materials. 
To sign up for more news and information from The Giftware Association and when the next Gift Stop is, please sign up to our mailing list here