 THE GIFTWARE ASSOCIATION CELEBRATES SUSTAINABILTY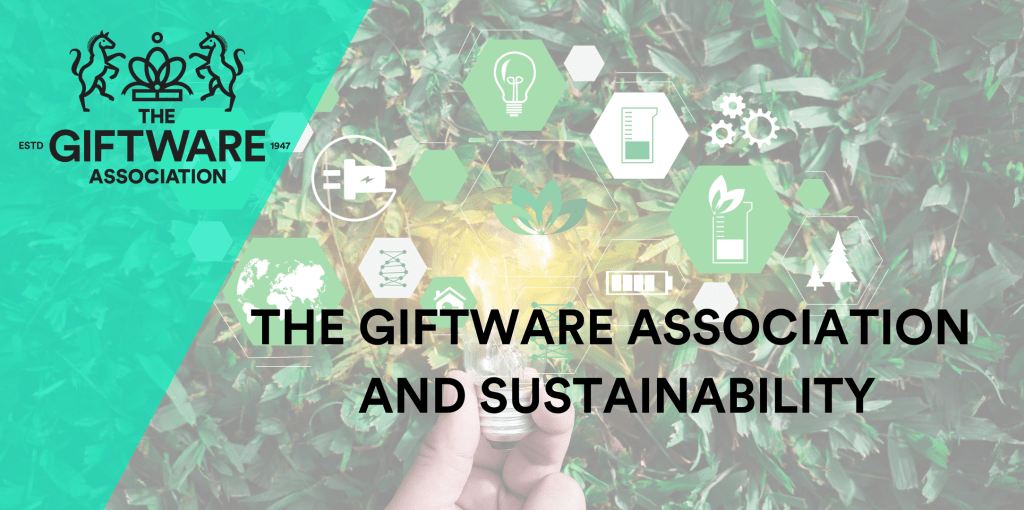 Sustainability is a big topic at the moment within the home and giftware world, and rather than a passing trend its here to stay with businesses making big changes to process and reviewing the impact their businesses on the environment the impact on. The Giftware Association wants to celebrate all those companies that are making steps to reduce their companies impact and also give an insight into companies who are very early on into their journey, over the next few months we will be sharing stories from members and beyond who are at various stages of their sustainability journey, so if you want to be featured then please get in touch.
To kick of the series we have asked our good friends at products of Change of Change to give us their insight into sustainability and where to start with a guest blog from editor Rob Hutchins.
AN UNEXPECTED JOURNEY: THE PURSUIT OF SUSTAINABILITY
It's good to think of the term sustainability as something amorphous, moving and evolving, twisting and turning shape as those of us who pursue it learn more and more about the forces at play, or the balances that must be struck, in order to reach it.
Which, when you're starting out on your journey towards sustainability – like so many of you are today – is about as helpful as a pigeon with a stethoscope. So let's try and decipher that a little bit.
When I first joined Products of Change following an eight-year stint at the toy industry trade magazine, ToyNews, encouraging and driving positive, sustainable change across the consumer industries was high on my agenda. I'd promoted the concept of material innovation and the reduction of consumption through initiatives such as toy libraries and subscription models through articles and features I'd written; but within weeks of taking up the role of editor and community manager with this progressive platform and network of experts, I realised that what I truly understood amounted to… diddly squat.
One of the first things Helena Mansell-Stopher, founder of Products of Change did as I joined, was hand me a book: The Future We Choose, written by two figures pivotal in the creation and delivery of the 2015 Paris Agreement, Christiana Figueres and Tom Rivett-Carnac. On the inside cover she'd written a quote from Paul Polman – the former CEO of Unilever, and figure responsible for the global corporation's own seismic shift in operations to pursue that holy grail of the modern era; sustainability.
The quote read:
"Climate Change is something misunderstood as being about changes in the weather. In reality, it is about changes in our own way of life."
So perhaps we're best placed to begin there. Sustainability is the ongoing process to find and adopt a new way of life. A deconstruction of the traditional ways of thinking, swapping the linear for the circular, swapping GDP growth and shareholder-first mentality for something more regenerative, something that positively impacts every single stakeholder within your business – from the farmers growing your resources, to the customers buying your end products. As Polman puts it himself, it's about the pursuit of becoming Net Positive.
OK, we've established it means change. But please, for goodness sake - how do we effect that change?
Is there a quick fix to becoming more sustainable? The good news is, yes. You can start tomorrow. Actually, why wait? You can start today. In fact, it's likely that you have already got systems in place that are – as a general rule – a fantastic place to begin your journey towards becoming a more sustainable – or even a Net Positive – company.
To address this, let's look at the adopted mantra of the Sustaineer:
Remove
Reduce
Reuse
Recycle
Think of this as the preferred hierarchy of actions you can begin to take to have the most positive impact on the way you produce things. If you're reading this, chances are that many of you have already considered – if not enacted – the process of removing single use plastic, for instance, from your products and packaging. This is a fantastic first step and a brilliant example of reconfiguring your thought processes around your products. You've likely also put in place plans to reduce your packaging, the size of the boxes your products arrive in, and ultimately reducing your waste or the waste you leave your end consumer. Again, it's another fantastic step forwards, and a showcase of the innovation at play when assessing how to become a more sustainable company.
How many of you have looked at the reusability of your product? I dare say quite the majority. We are after all, all in the business of providing our customers – or stakeholders – with the highest quality products that won't simply find themselves in the waste stream after a single use. The gifting specialist, Talking Tables, has done wonderful things in promoting the reusability of its products, for example, simply through the messaging it includes, prompting consumers to think about saving their partyware for occasions down the line. Meanwhile, others are finding innovative ways to make their packaging part of the product experience itself, a handy storage box for future for instance, or an integral part of the product's play pattern. It is essentially about keeping the resources we use in the value stream and out of the bin.
Finally, recycling. Possibly the sexiest of all four, yet the element whose impact is lowest in the hierarchy. Yes, recycling opens the door to some fascinating conversation around material innovations, bio and compostable plastics, for instance, or even products made out of mushroom leather. Polymers, cellulose, biodegradability – it's the sex, drugs, and rock n roll of the sustainability conversation. Ultimately, innovating across these fields will never be a bad thing. But if you're looking for quick progression on your sustainable journey, you're best placed to take a closer look at recycling's oft-overlooked cousins first.
The reason? Simply because of the energy involved in the recycling operations of those materials – not to mention the reliance on the consumer to recycle appropriately, and the hope that those curb-side collections are processing that waste in the way in which they say. Far better that waste is eliminated outright. It's about looking at the whole picture.
But the whole picture is big, and overwhelming…
We sympathise here. It's massive. It's a picture that spans from the bamboo farms of Kenya to the used clothing dumping grounds of the Atacama Desert in Chile and everything and everyone in between. In fact, when it comes to big pictures; sustainability is the Sistine Chapel. Though perhaps that's the wrong metaphor to use, because real, positive change across the consumer industries won't be achieved by one person, or one company alone.
This is a journey that is going to take collaboration across every single element of that supply chain. From material innovation and design and engineering, to packaging and shipping and eventually to the adoption of circular models and how to switch to a circular economy, all while businesses – your businesses - remain in motion.
And that's exactly what Products of Change is here to facilitate. We are more than a media platform and this one writer whittering on about pigeons with stethoscopes. We are a resource hub and a network of experts from across all principles of the circular economy, sustainable licensing, product and packaging innovation, retailers, design lecturers and educational experts, and businesses – like yours – taking their first, second, third, 43rd steps along the journey towards a more sustainable and regenerative future of industry.
It is our aim, that by pooling these talents and pioneers together, and helping deliver these new ways of thinking – through workshops, workstreams, meetings (face to face and online), conferences, and generally connecting the right people, we can drive the positive change we need to beat the ticking clock we now all face.
Climate Change and the rate of production since the industrial revolution has left us with a very definite timeframe in which to effect that change. But the potential to set a new direction for business, your business and its future, and the future of those that stand to inherit what we leave, is limited only by our own capacity to change ourselves.
So why not take a look at Products of Change, and take your next steps on that sustainable journey in some very good company?