 BRAND NEW WEBINARS FROM THE GIFTWARE ASSOCIATION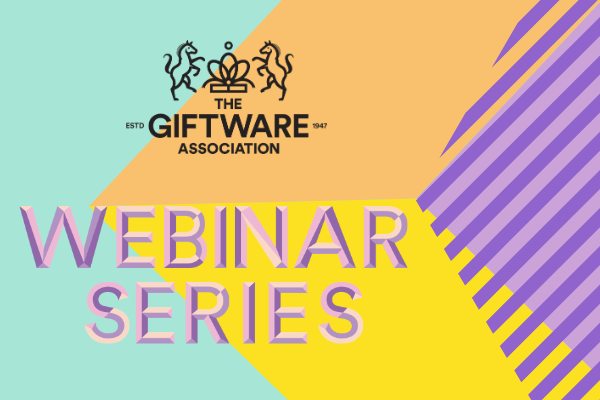 The Giftware Association is committing to bringing the best content to its members and the wider community, not just during this especially difficult time, but all the time to help grow, future-proof and maintain your business.
With that in mind we have are excited to announce brand new webinars, that will run alongside our 'Looking to the Otherside' webinar series, that delve a little deeper into some of the key subjects that are on the minds of businesses right now.
These webinars have been curated experts in their fields to offer the best advice, tips and plans on taking your business to the next level. View and book your place on the webinars below, and if there is a subject that you want to be covered then please let us know and we can source the relevant expert.

All webinars will last approximately 40 minutes with a 20 minute Q&A sessions at the end.
*Events are subject to change, but you will be notified in advance
WEBINARS IN JUNE
2ND JUNE - HEALTH AND WELLBEING (PART 1)
FIND OUT MORE AND REGISTER HERE 
3RD JUNE - HEALTH AND WELLBEING (PART 2)
FIND OUT MORE AND REGISTER HERE 
4TH JUNE - LOOKING TO THE OTHERSIDE - EVENTS WEBINAR
FIND OUT  MORE AND REGISTER HERE
9TH JUNE - RAMM AND RISNER - LIVE EVENT
FIND OUT MORE AND REGISTER HERE
10TH JUNE - BUSINESS LIFE PAST COVID 19 (PART 1)
FIND OUT MORE AND REGISTER HERE
11TH JUNE - LOOKING TO THE OTHER SIDE CUSTOMER EXPERIENCE AND RETAIL EXPERIENCE
FIND OUT MORE AND REGISTER HERE
12 JUNE - BUSINESS LIFE PAST COVID 19 (PART 3)
FIND OUT MORE AND REGISTER HERE
18TH JUNE LOOKING TO THE OTHER SIDE - PRODUCT TRENDS
FIND OUT MORE AND REGISTER HERE
25TH JUNE -LOOKING TO THE OTHER SIDE - RESPONSIBLE RETAILING
FIND OUT MORE AND REGISTER HERE