 FROM YOU TO ME bring back the memories
"We can't ever go back to old things or try and get the 'old kick' out of something or find things the way we remembered them. We have them as we remember them and they are fine and wonderful and we have to go on and have other things because the old things are nowhere except in our minds now."
This was a letter from Ernest Hemingway to his close friend Bill Horne in Paris 1923.
We love this quote about memories. The most beautiful things are often the moments we spend in our lives and the memories we have afterwards of these special times.
The sadness when we can't remember things can be eased as something prompts us to recall the time. A name. A smell. Some music. A photograph. A person's face. All can instantly help to take us back.
That is why this new range of books published by FROM YOU TO ME will help to take us back on a journey over our early years. Each book covers two decades and includes memories from the recipient's formative years.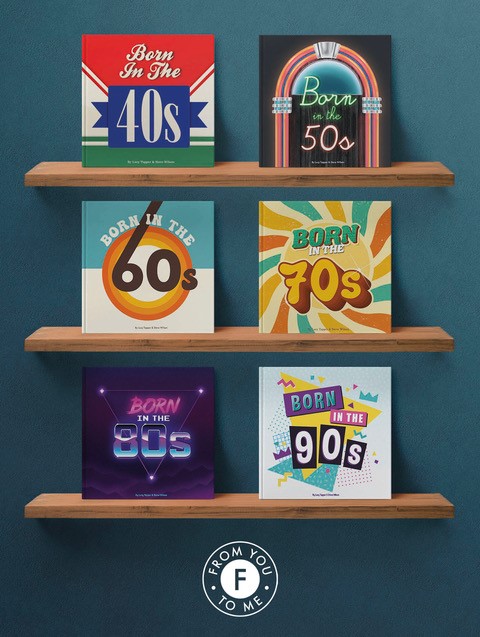 Over two years of research by creators Lucy Tapper & Steve Wilson has gone into creating this incredible range of books and with space for a gift message to the recipient, they each cover two decades of memories including:
· fashion
· hair styles
· television shows
· games & toys
· food & drink
· cars & journeys
· key news events
Arriving in early November, these six memory-packed gift books - Born in the 40s, 50s, 60s, 70s, 80s and 90s - will make exciting Christmas presents for many of the family. We can already see and hear Christmas dinner table conversations about the stylish fashion choices or hairstyles from a particular era bringing back the memories and being a source of fun!
Available for only £10 each, these will be available on the FROM YOU TO ME website as well as many gift and book retailers across the UK.
Treasure those memories!
FROM YOU TO ME
MAKING GIFTS MATTER
For more information about FROM YOU TO ME including imprints JOURNALS OF A LIFETIME and please visit www.FromYouToMe.com
For this article, please contact Neil Coxon on +44 (0) 7779 131827
or email Neil@FromYouToMe.com